eggless pumpkin muffins recipe with step by step photos – pumpkin is one veggie that is not seasonal in india. we get pumpkin all round the year. usually i make simple and easy stir fries with pumpkin.
however, this time i decided to try making something new from pumpkin. something which my traditional indian mind can't even think of.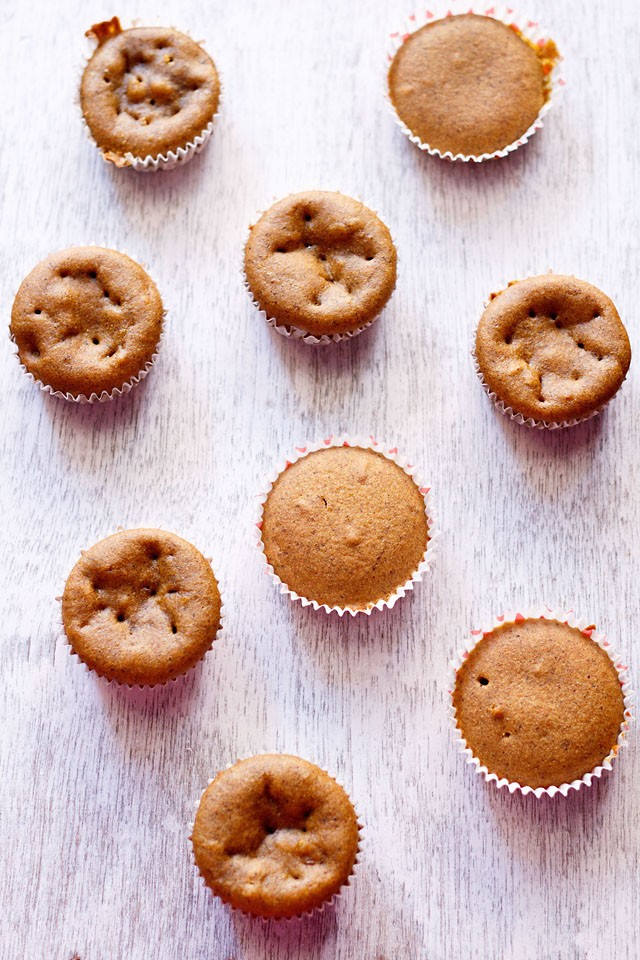 first i thought of making a creamy dessert with pumpkin, but not sure how well it would go with others, i opted to make this easy eggless pumpkin muffins. i have seen a lot of pumpkin cakes and muffins on other blogs. so thought why not give a try.
i have adapted this pumpkin muffins recipe from the cookbook "the complete idiot's guide to vegan baking" by donna diegel
. this one book is treasure of vegan baking recipes. this is the first muffin i tried from the book and it was a super success. i halved the recipe and made some minor changes.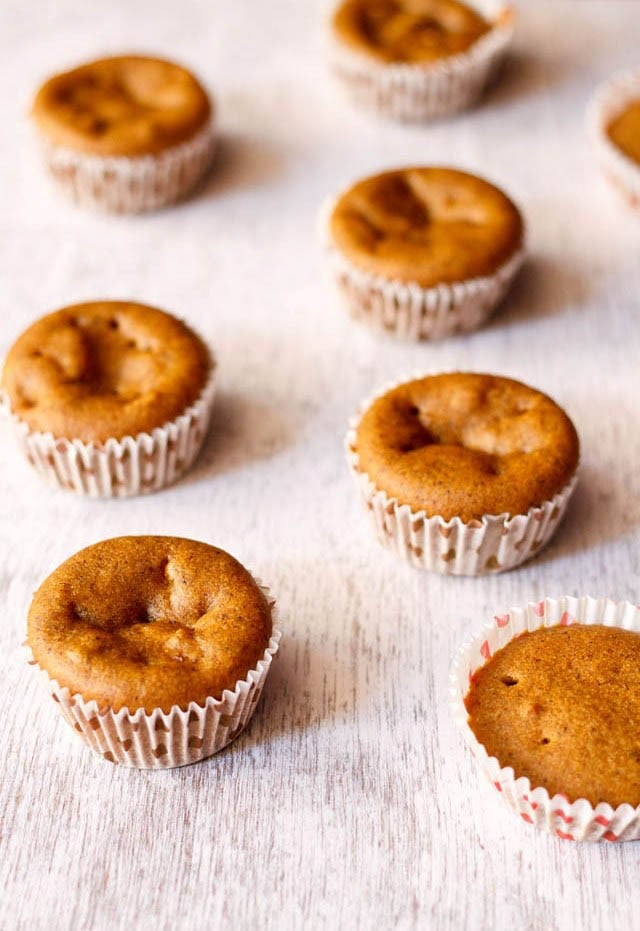 you will need pumpkin puree to make these muffins. i have mentioned in the notes below how to make pumpkin puree. these are healthy & nutritious muffins. who says cakes or desserts cannot be healthy. this one is also low in fat as the amount of oil used is just 1/3 cup.
this muffins recipe is also refined sugar free as i have used organic unrefined cane sugar here. so this is an eggless, diary free, refined sugar free and a wholesome pumpkin muffin for you. these muffins are spiced with cinnamon, dry ginger and nutmeg powder. hence they are aromatic too.
few more muffin recipes in the blog are eggless banana muffins, mango muffins, lemon muffins, apple muffins, chocolate chip muffins and eggless orange muffins recipe.
eggless pumpkin muffins recipe below: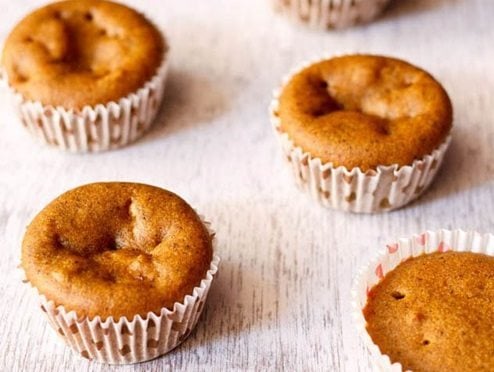 eggless pumpkin muffins recipe
eggless, diary free, refined sugar free and a wholesome pumpkin muffin recipe
ingredients (1 cup = 250 ml)
dry ingredients:
2

cups

whole wheat flour

(atta)

1

tablespoon

corn starch

(corn flour)

½

teaspoon

cinnamon powder

(dalchini powder)

1

teaspoon

ginger powder

(saunth)

½ or ¾

teaspoon

ground or grated nutmeg

(jaiphal powder)

¼

teaspoon

salt

¾

tablespoon

baking powder

½

teaspoon

baking soda
wet ingredients:
1.5

cup

soy milk

or almond milk or regular milk

1

tablespoon

flax seed powder + 3 tbsp warm water = mixed into a paste

(check notes if you don't have flax seed powder or meal)

⅓

cup

oil

¾

cup

organic unrefined cane sugar

1

cup

pumpkin puree

(recipe mentioned in the notes section below)

½

teaspoon

vanilla extract
additional ingredients:
½

cup

raisins

(kishmish)

1 or 2

tablespoon

sunflower seeds

(optional)
how to make recipe
first preheat the oven to 190 degrees C.

line a muffin pan or tray with muffin liners.

sieve all the dry ingredients listed above.

beat the wet ingredients listed above with an electric beater for 2-3 minutes on high speed.

fold the dry into the wet ingredients till the whole batter is uniformly mixed.

fold in the raisins and sunflower seeds.

pour the batter in the muffin liners.

gently tap the sides of the muffins liners or cups.

bake for 20-25 minutes.

serve pumpkin muffins warm with tea or coffee.

you can also store the pumpkin muffins in an air-tight box.
recipe notes
for flaxseed meal/powder substitute, replace 1/4 yogurt, either cashew or dairy yogurt.
to make 1 cup pumpkin puree, cook 1 cup chopped pumpkin with some water if required, till they become completely soft. blend them to a smooth and thick puree adding very little if required.
if you are looking for more eggless recipes then do check apple cake, orange cake, christmas fruit cake, eggless apple upside down cake, orange crinkle cookies and eggless basic chocolate cake recipe.
step by step eggless pumpkin muffins recipe:
1: first sieve the whole wheat flour, corn flour/corn starch, the spice powders, baking powder, baking soda and salt.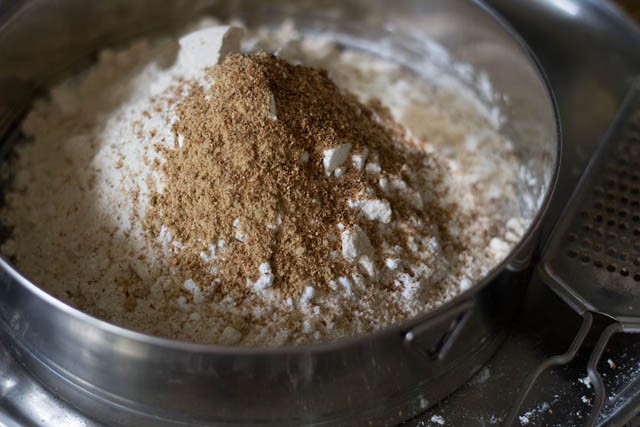 2: in another bowl add the soy milk, flax seed paste, oil, vanilla extract, sugar and pumpkin puree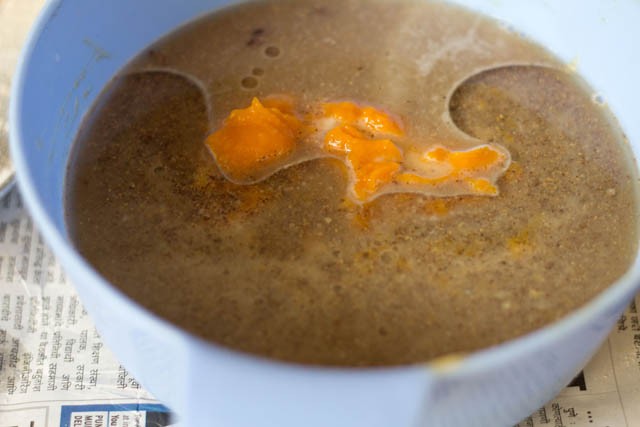 3: with an electric beater, beat the whole mixture on a high speed for 2-3 minutes. the mixture should become light in texture.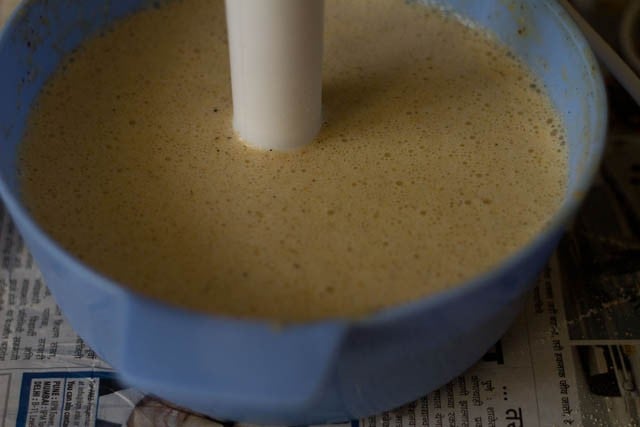 4: fold the sieved flour into this wet mixture using a spatula or a wooden spoon till the whole mixture is folded uniformly. do not over mix as you don't want gluten to form in the batter. while folding don't add all the flour at once. add 1/2  a cup or 1 cup of flour and fold… then repeat.
5: here's a pic of the batter.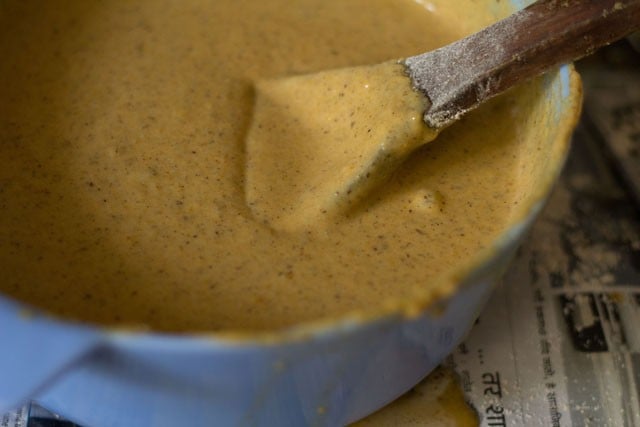 6: fold in the raisins and sunflower seeds.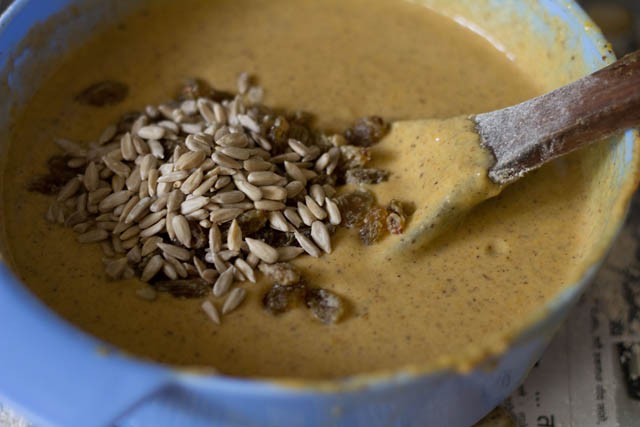 6: in a muffin cups or muffin pan lined with muffin liners, pour the batter with a spoon or cup. remember to tap the tray or the muffin cups so that the air bubbles come out. otherwise you will have muffins like mine where the escaping bubbles during baking, have created a few tiny holes on the surface.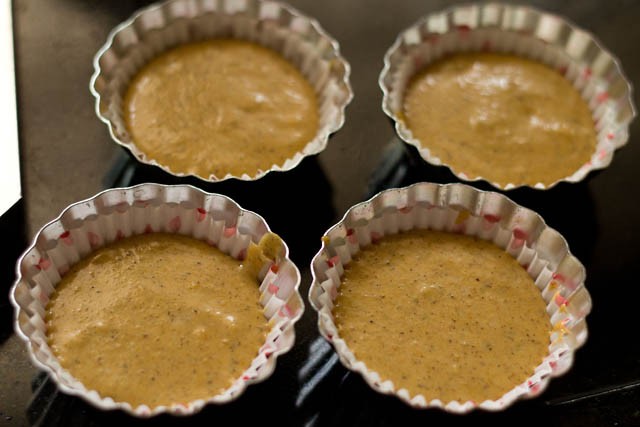 7: bake in a preheated oven for 190 degrees Cor 375 F till for 20-25 minutes or more. serve pumpkin muffins warm with tea or coffee.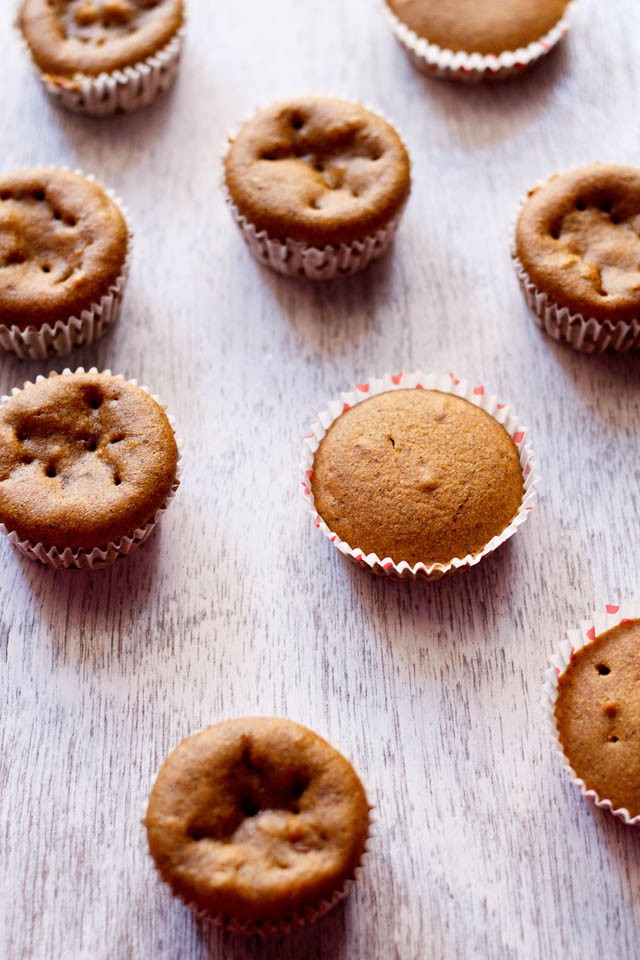 About
i started vegrecipesofindia.com in feb 2009. it is a pure vegetarian blog and shares recipes with step by step photos.

i am passionate about cooking from childhood and learnt cooking from my elders. a home science degree course further enhanced my cooking and baking skills professionally along with an internship in a five star hotel. i am trained both in mainstream indian as well as international cuisines.

all the 1800 recipes posted on blog are tried and tested and made healthy wherever possible. the recipes are detailed and with step by step pictures that will easily help you to make delicious and tasty vegetarian food.