Vrat ki dahi arbi recipe with step by step photos – dahi arbi or colocasia-taro roots in a thin yogurt gravy is a excellent recipe to made during summers.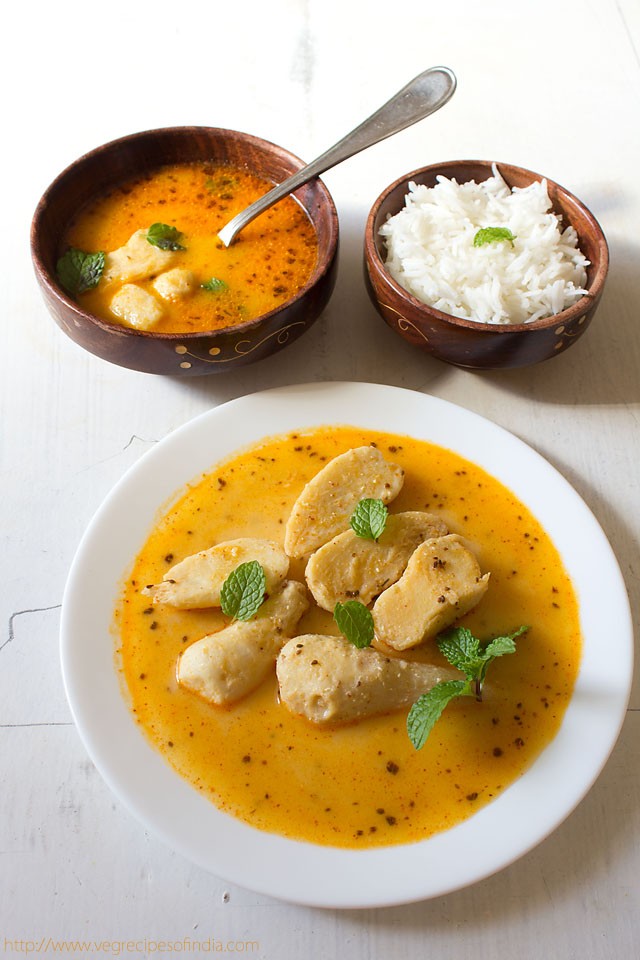 Summers… One season I do not like at all. I do not like heat and moreover do not like to have heavy meals or heavy food in summers.
Our meals are light and no fried or heavy stuff. One ingredient we often end up having in this season is yogurt. We just have it as a raita or make chaas or a light kadhi.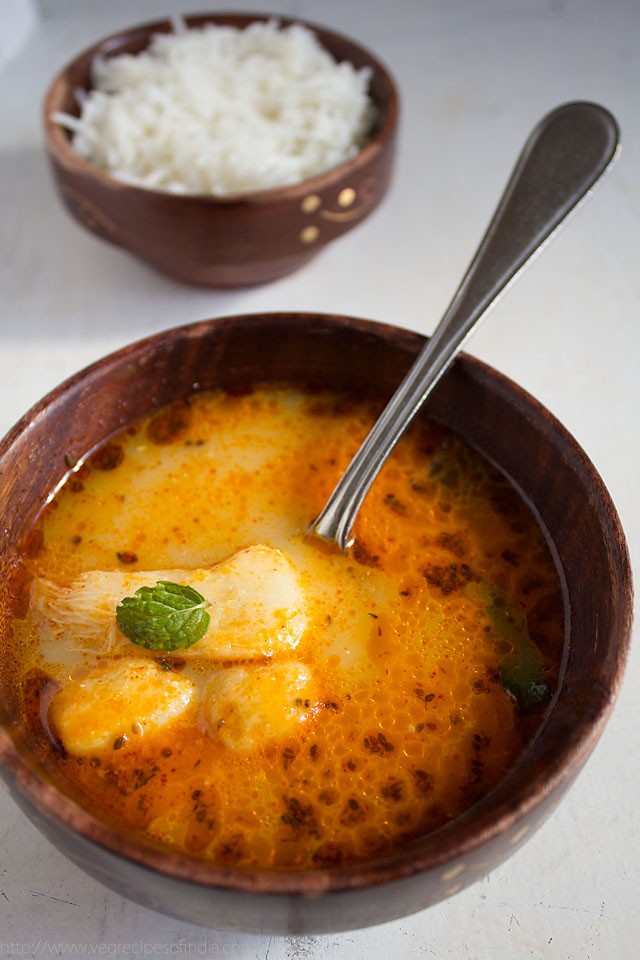 This arbi recipe can be made during fasting days like Navratri or Janmashtami or Ekadashi or mahashivratri also. If you want to make dahi arbi for regular days then you can check this Dahi wali arbi recipe which has a base of an onion-tomato gravy.
Yogurt is light and keeps your body cool. this dahi arbi is also a very light and comforting food. Excellent with boiled plain rice. In fact much easy to make than Kadhi pakora. whenever I make the kadhi in the summers, I don't add any pakora. I keep it a little thin and light.
The arbi or taro roots are cooked first and then simmered in the thin curd gravy. The dish is spiced with the strong flavor of ajwain/carom seeds which works well with the combination of curd and arbi. The garnish with the mint leaves also adds to the flavor and coolness in the recipe. You could just sip it like a soup. It is so flavorful and good.
Taro roots are very good in fibre and excellent for the digestive system. They are also very high in vitamin C & vitamin E… Both of which are anti-oxidants. Taro roots have zero cholesterol. So do include Arbi in your diet often.
If you are looking for more Fasting recipes then do check:
Please be sure to rate the recipe in the recipe card or leave a comment below if you have made it. For more vegetarian inspirations, Sign Up for my emails or follow me on Instagram, Youtube, Facebook, Pinterest or Twitter.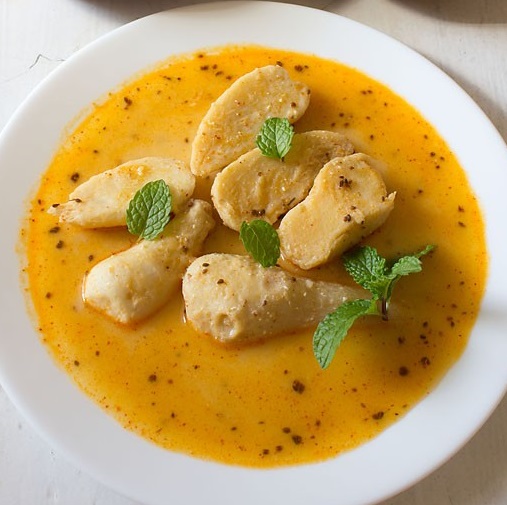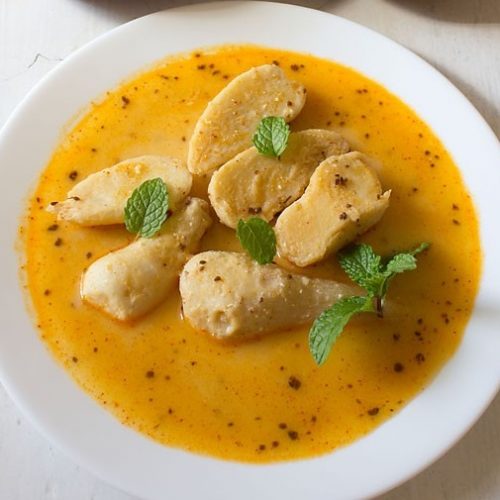 vrat ki dahi arbi
Dahi arbi recipe - colocasia-taro roots in a thin yogurt gravy
250

grams

arbi

(colocasia roots)

1.5

cups

thin watery curd,

in ¾ cup curd add ¾ cup water

1

teaspoon

ajwain

(carom seeds)

1

teaspoon

Coriander Powder

½

teaspoon

red chili powder

½

teaspoon

amchur powder

(dry mango powder)

a few mint leaves

for garnishing

2 to 3

tablespoons

oil

salt

or rock salt as required
Instructions
Cook the arbi till they are firm but cooked.

Peel the skin. Chop the arbi and keep aside

Heat oil in a kadai.

Fry the ajwain seeds first.

Lower the flame and add all the spice powders.

Add the arbi and fry till they get a little browned.

Add 2 cups water.

Now add the thin curd mixture.

Keep stirring often or the curd will split.

Bring to a boil and then simmer for 15 minutes.

Add salt.

Garnish with chopped mint leaves and serve dahi arbi hot with warm rice or soft phulkas.
Notes
The same recipe can also be made with whey instead of thin curd.
Stirring the curd mixture often once its put on fire is very important. If you don't stir then the curd will split into shreds in the curry. So keep on stirring continuously till the whole mixture reaches a boil. Then lower the flame and let the curry simmer. When the curry is simmering, stir occasionally.
If making for fasting, then add rock salt instead of regular salt
How to make vrat ki dahi arbi recipe
1: firstly boil the arbi till they are cooked. They should be just cooked and not mushy. You can either pressure cook for 1 or 2 whistles or cook them in a microwave for 10-12 minutes.  peel the skin from the arbi. Slice them vertically or horizontally. Keep aside.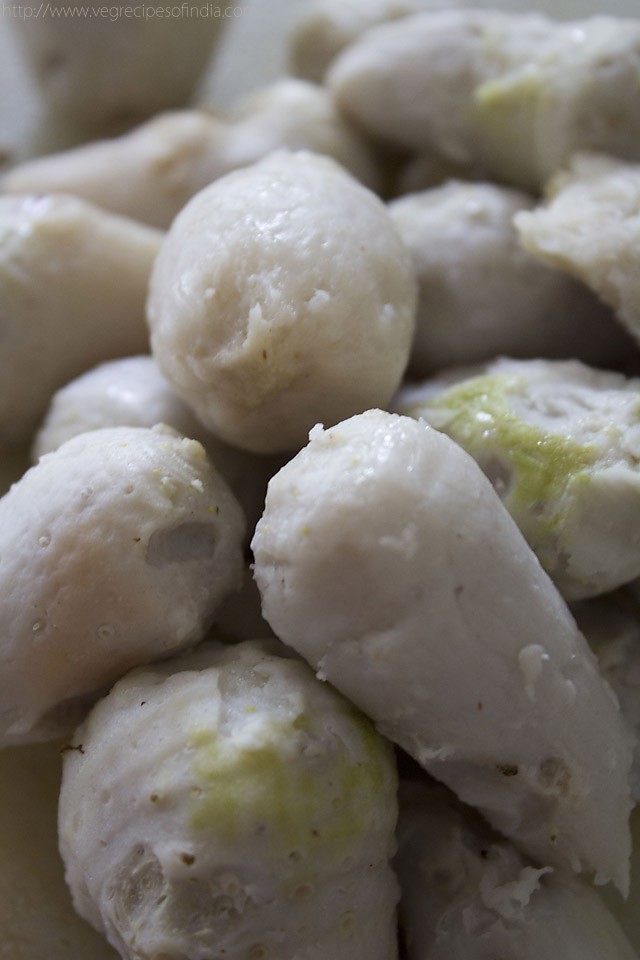 2: beat the curd till smooth. Add water and mix well. The mixture should be thin, but not as thin as buttermilk…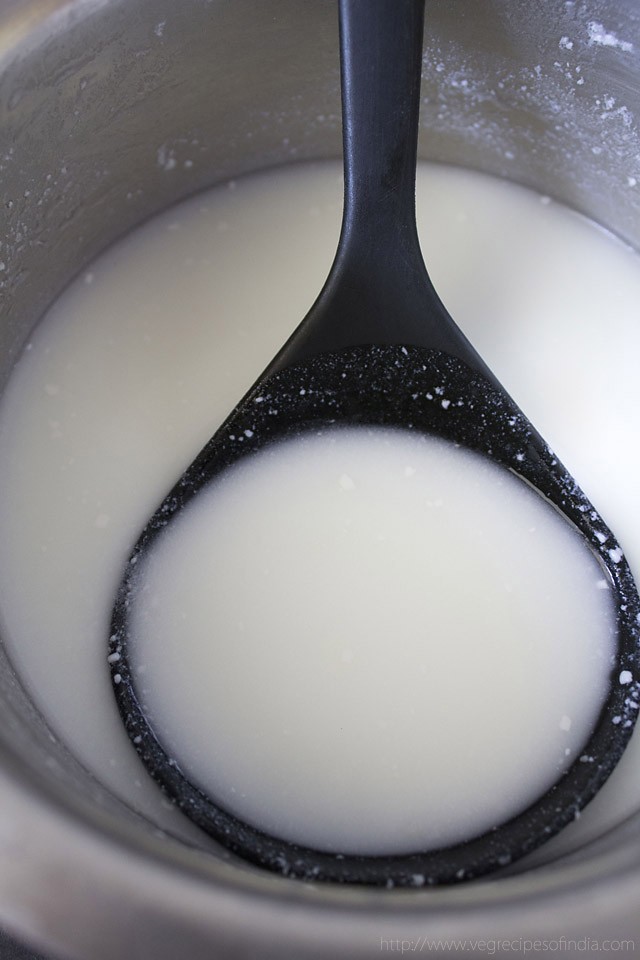 3: in a kadai or pan heat oil. Add the ajwain/carom seeds and fry them.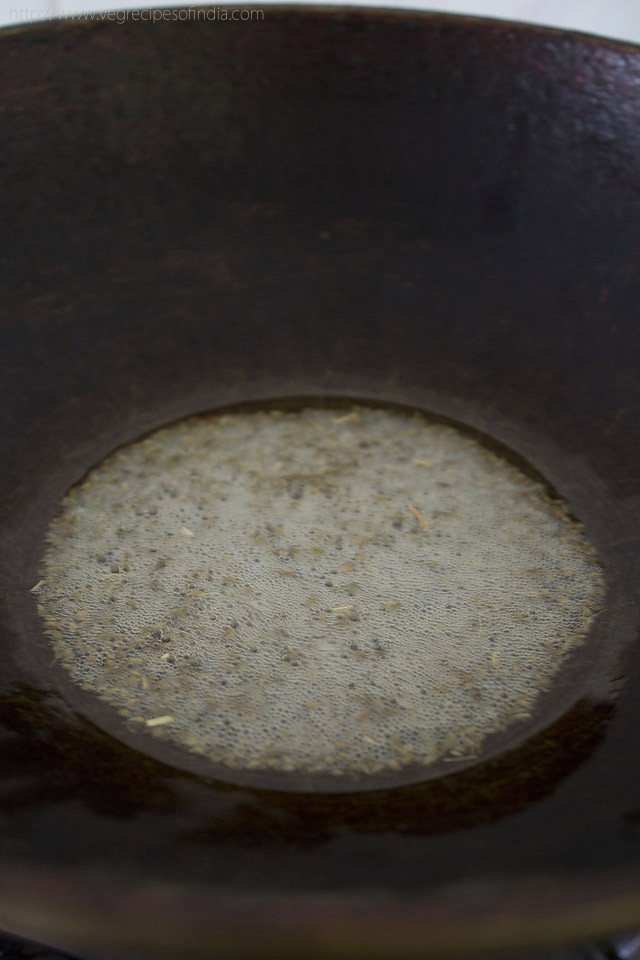 4: lower the flame and add the dry spice powders. If you want you can put off the flame too and then add the dry powders. Just make sure that they do not get burnt.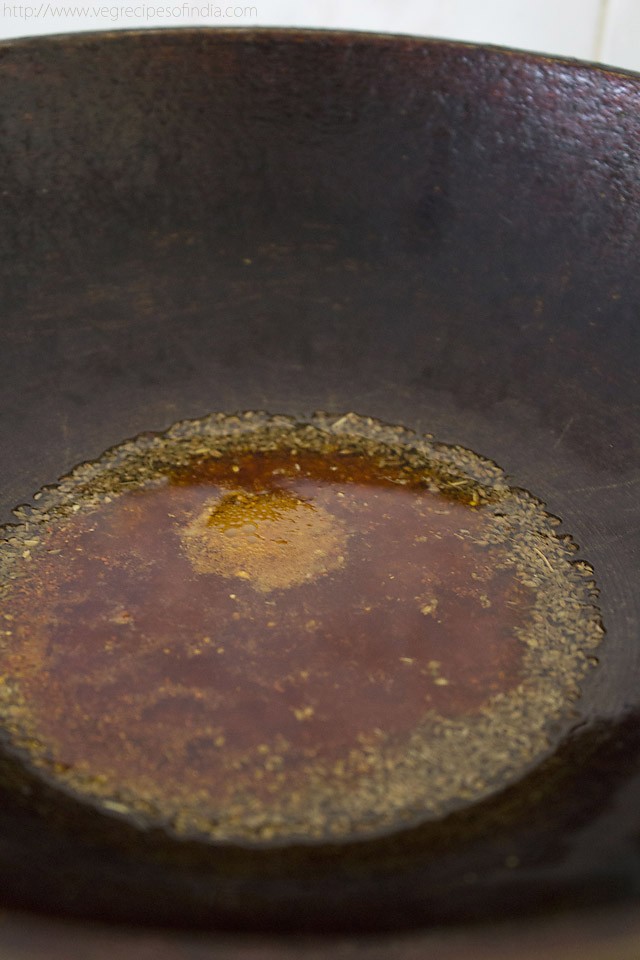 5: add the peeled and chopped arbi. Mix it well with the masala.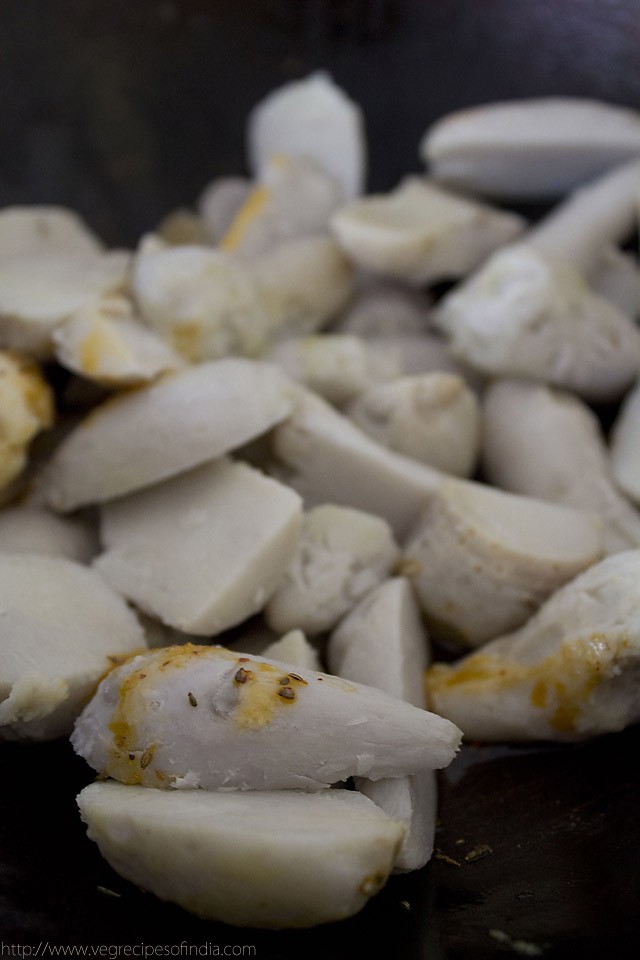 6: lightly brown the arbi on a low flame.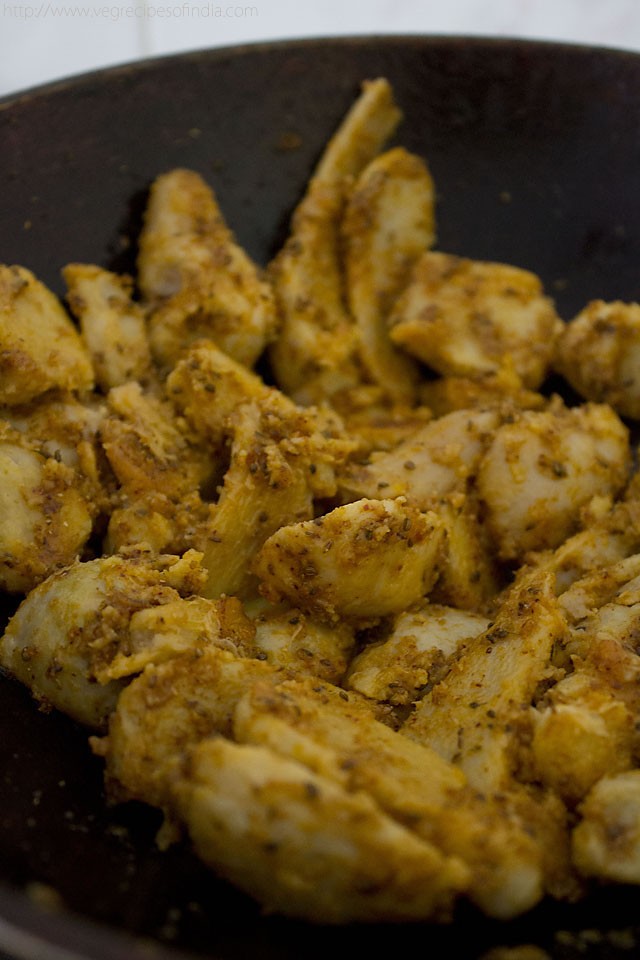 7: add water to the arbi.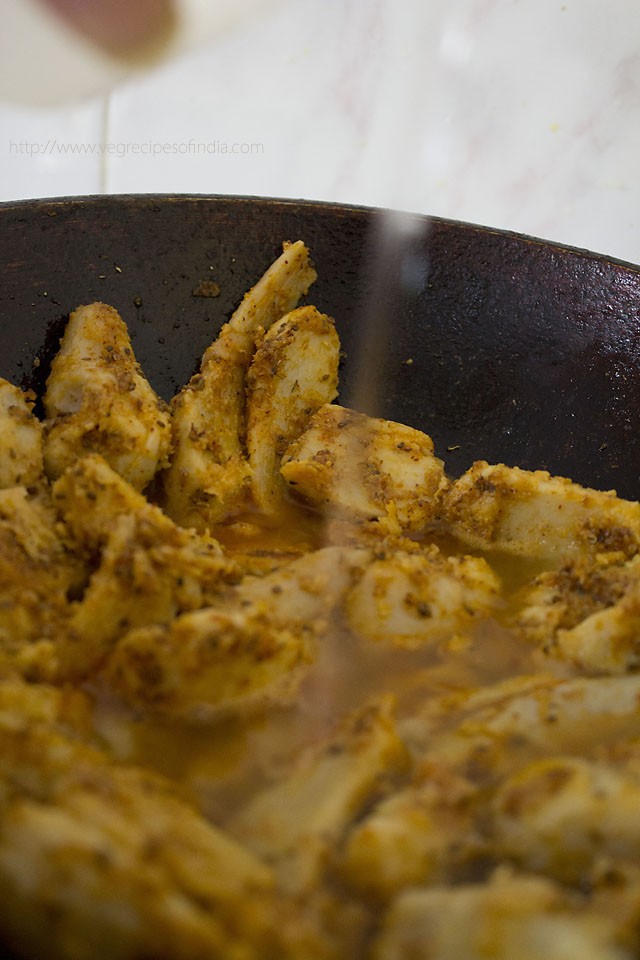 8: add the thin whey or yogurt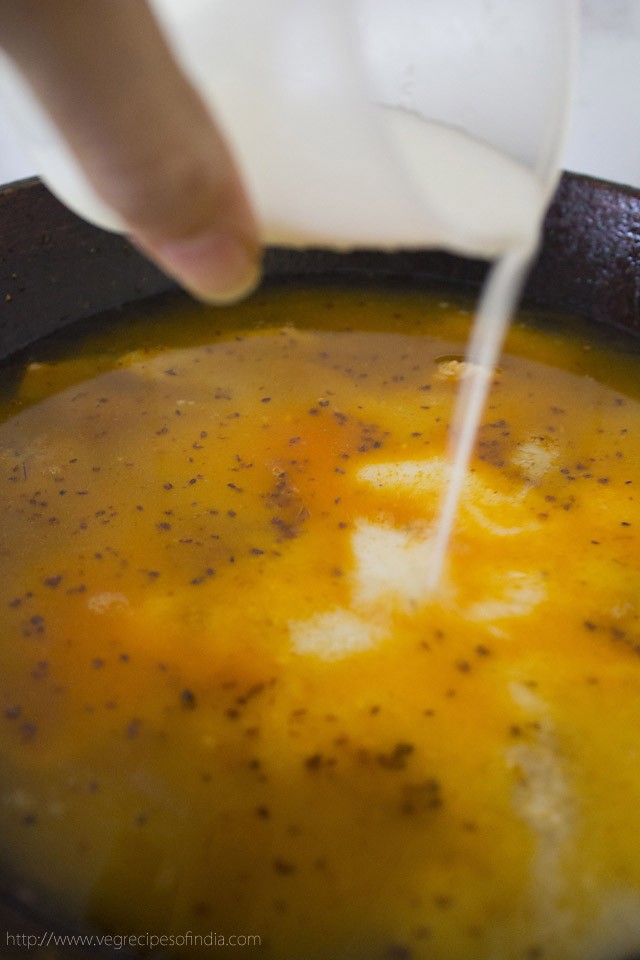 9: mix well.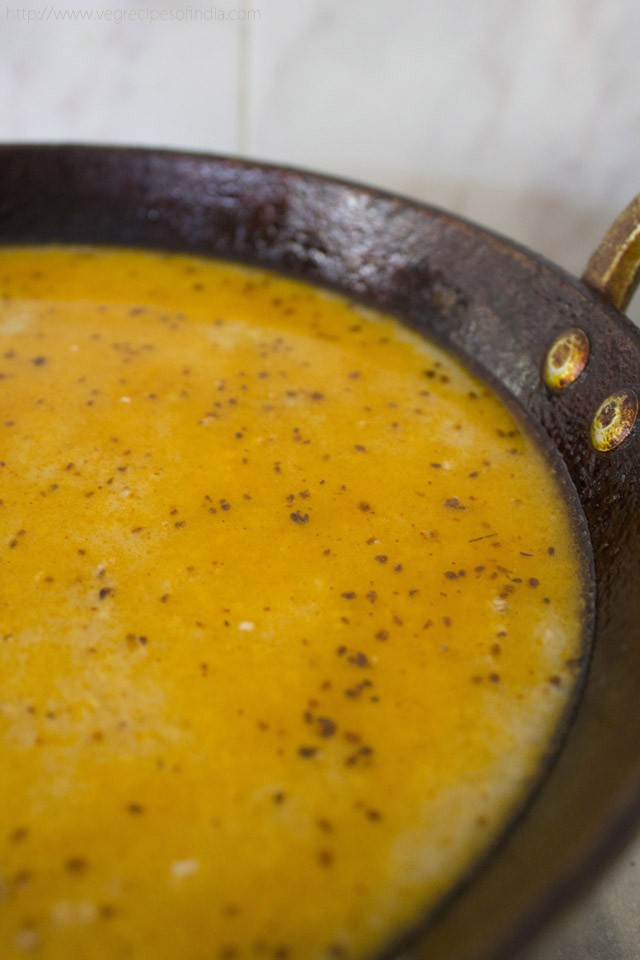 10: now keep on stirring often so that the curd or whey does not split into shreds. This step is very important. You have to keep on stirring often.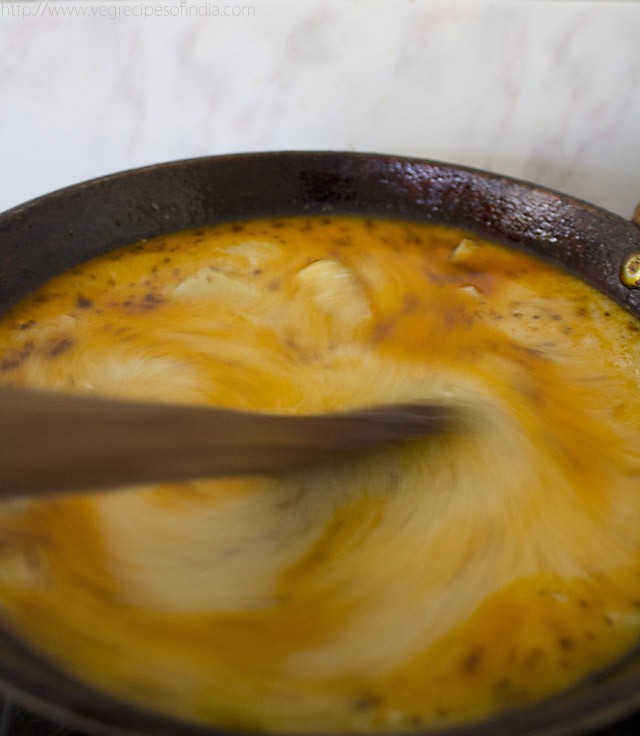 11: once the whole mixture comes to a boil, then simmer for 15-20 minutes on a low flame. Add salt.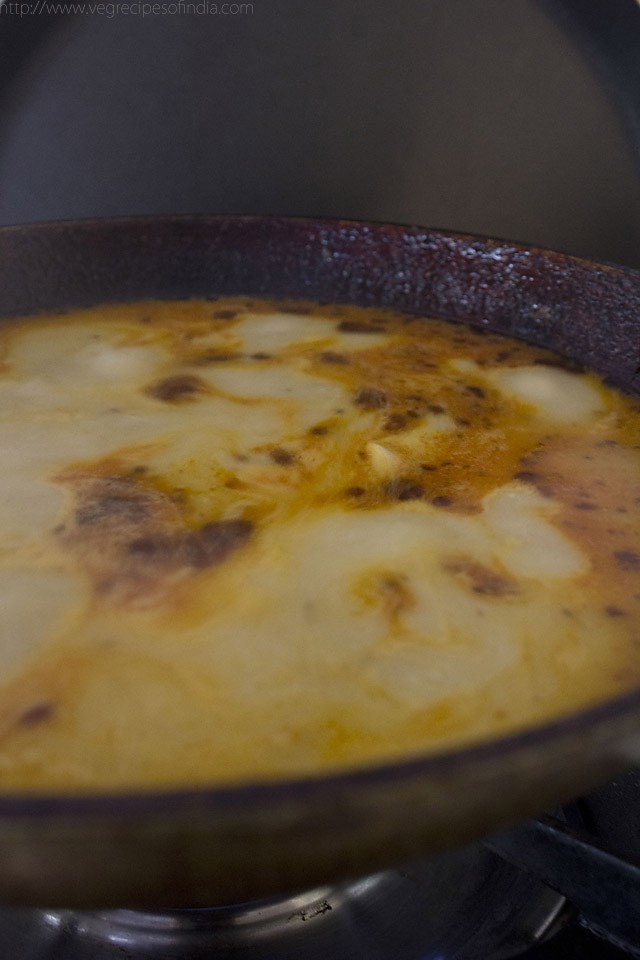 12: Garnish dahi arbi with chopped mint leaves while serving. Best accompaniment to the Dahi wali arbi is cooked basmati rice. But also goes well with thin phulkas.