This Mushroom Pasta is a delicious dish of sautéed mushrooms mixed with shell pasta in a creamy sauce. The white cream sauce is conveniently made in the same pan as the sautéed mushrooms, garlic and onions, absorbing all of the great flavors as it thickens. An easy recipe to make, this vegetarian meal is full of flavor and has a fantastic creamy consistency.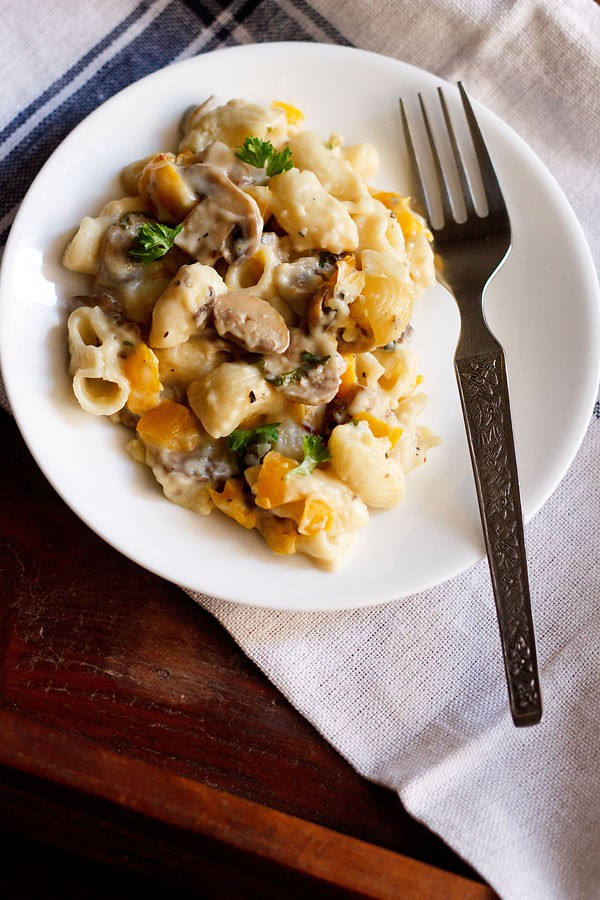 About this recipe
On some days I just don't want to cook anything Indian, like lentil, curry and flatbreads. So instead, I make dishes that are not that commonly made in my home.
This flavorful creamy mushroom pasta is one of those meals and I am happy and somewhat surprised, to say that it was a hit.
This is a pasta dish you will be sure to enjoy. I say this from experience as my family members are not pasta lovers and yet loved this dish!
You see, my family has grown up eating mostly traditional Indian cuisine and they don't always look favorably on trying new foods.
But I love cooking and eating foods from all over the world and so continue to try to subtly bring recipes from other cuisines into our meal routine.
This doesn't always go well, particularly with pasta, but the wonderful flavors and satisfying texture of this yummy dish made it a winner in my home.
Even my husband who is definitely not a pasta lover enjoyed this dish. I guess it's just that good!
I'm happy to say that this tasty creamy mushroom pasta is one of the recipes that is helping my family expand their food horizons.
Why this recipe works
To make this dish, you don't have to make the white sauce separately. The sauce is made during the cooking process.
This allows all the wonderful flavors of the mushrooms, garlic and onions to get incorporated into the milk as it thickens to create a tasty cream sauce.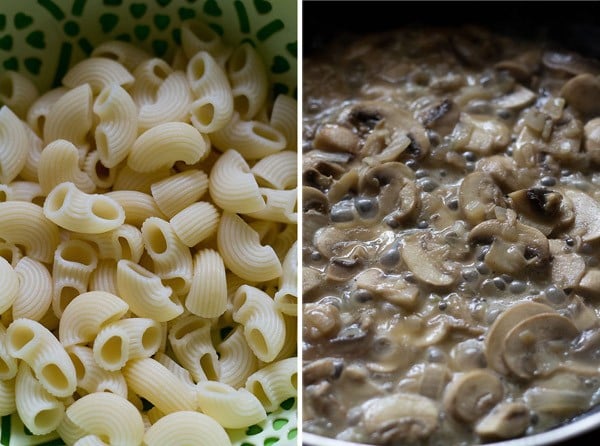 After preparing the pasta, the remainder of this meal is made in one pot or one pan. This not only adds to the ease of preparation and clean up, but also results in a cohesive meal with perfectly blended flavors.
Towards the end, I topped the dish with cheddar cheese and then baked for the cheese to melt. This adds a nice little crust to the top.
However, if you don't have an oven, skip this last step and instead just top the mushroom pasta with some grated cheese and serve hot.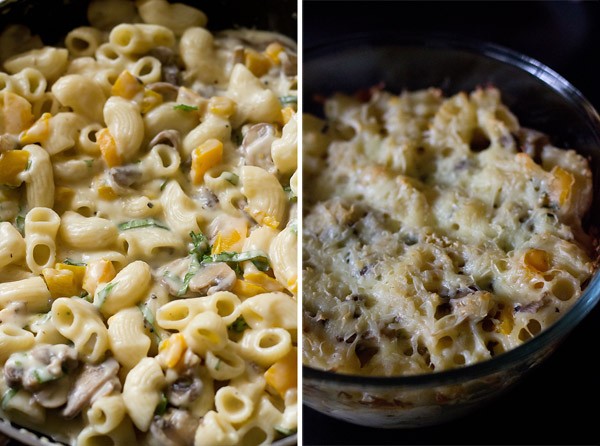 Serving Suggestions
I served it with a side of Tomato Soup and some warm toasted brown bread. This filling dish also works well all by itself or with a light side salad.
Variations
I have used yellow bell pepper in this recipe as an additional veggie to the mushroom. Instead of yellow bell pepper you can add green or red bell pepper.
The addition of bell pepper is however, optional. The dish works fine with just the mushrooms, or else you can also add some cooked corn or baby corn or steamed broccoli, carrots and cauliflower to the recipe.
Simply add extra vegetables at the end when you add the pasta and be sure to mix well so everything is coated by the sauce.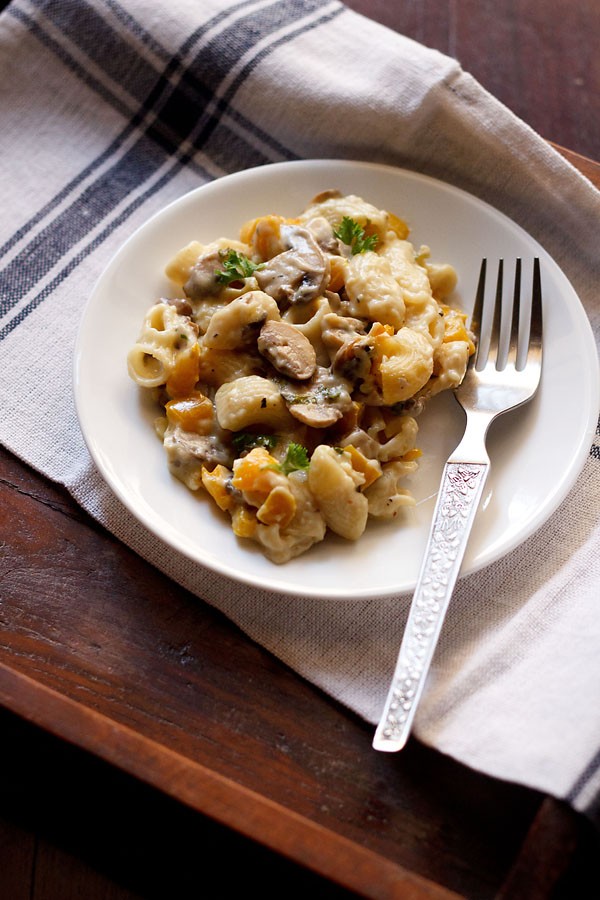 Expert Tips
Pasta: You can replace rigatoni, penne, ziti and farfalle pasta with macaroni or shell pasta.
Cooking pasta: Cook pasta until they are al dente -meaning have a slight bite to them. You don't want them to be very soft or mushy.
Fats: You can add olive oil instead of butter. Any neutral tasting oil also works well.
Cream: To make the mushroom pasta more rich and creamy, add 2 to 3 tablespoons of heavy cream.
Veggies: As I have mentioned above bell pepper can be skipped. Adding seasonal veggies give a good flavorful boost. The veggies can be steamed, sautéed or roasted veggies. Think of veggies like cauliflower, carrots, zucchini, baby corn, green beans.
Mushrooms: Add cremini mushrooms or fresh shiitake mushrooms in place of button mushrooms.
A Few More Tasty Pasta Recipes for You!
Please be sure to rate this recipe in the recipe card below if you have made it. For more vegetarian inspirations, Sign Up for my emails or follow me on Instagram, Youtube, Facebook, Pinterest or Twitter.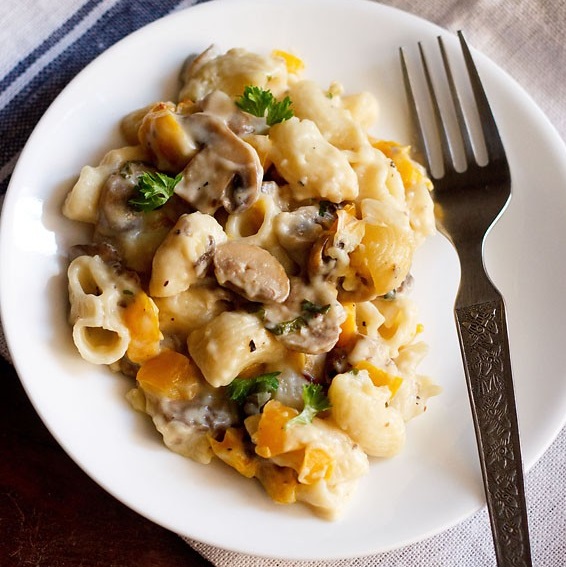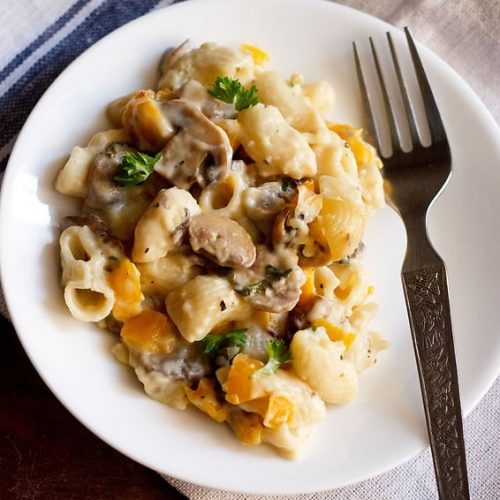 Mushroom Pasta
This mushroom pasta is a one-pot recipe to make a delicious creamy mushroom pasta.
1

cup

shell pasta

or macaroni

200 to 250

grams

white button mushrooms

1

yellow bell pepper

or red bell pepper (medium to large-sized) – optional

1

small onion

– finely chopped

2

garlic cloves

(small to medium-sized) – finely chopped

1

teaspoon

chopped parsley

or coriander leaves (cilantro)

1

teaspoon

chopped basil

2

tablespoon

all-purpose flour

1.5

cups

whole milk

2

tablespoons

Butter

(salted or unsalted)

2 to 3

tablespoon

grated cheddar cheese

or mozzarella cheese

salt

as required

black pepper

as required
Instructions
Preparation
Heat enough water with salt until it begins to boil.

Add the pasta and cook the pasta until they are al dente.

When done, strain them in a colander or strainer.

Drain and set them aside.

Rinse the mushrooms well in water in a strainer or colander. Drain them.

Trim the stalks and slice them. Set aside. Chop the bell pepper and set aside.

Peel and finely chop the onions and garlic.
Sautéing mushrooms
Melt butter in a pan. Add the garlic and saute for about 10 to 12 seconds on a low flame.

Add the chopped onions and saute till the onions become translucent.

Add the sliced mushrooms and saute on a low to medium flame till the mushrooms have shrunk in size.

There should be no moisture in the pan.

The mushrooms will release their juices initially and after continuous sauteing, the juices will evaporate.

Keep on stirring at intervals while sautéing mushrooms.

After the liquids have evaporated and the mushrooms have cooked, add the chopped bell pepper and sauté for 4 to 5 mins on a low flame.
Making the sauce
Stir well and sauté for 3 to 4 mins on a low flame.

The flour will coat itself to the mushrooms and bell pepper.

Add milk in a gentle stream to the pan and keep on stirring.

The flour will combine with the milk and you will see the sauce getting thickened slowly.
Making mushroom pasta
Cook for about 2 minutes and add the pasta.

Stir well and simmer for 1 to 2 minutes more.

Then add the chopped parsley and basil and simmer for a minute

Season with salt and pepper.

If the sauce becomes too thick, add some hot water or milk and thin the sauce.

You can garnish with grated cheese and serve the creamy mushroom pasta right here or proceed as follows, if you have an oven.
Baking instructions (optional)
Pour the pasta in a baking pan or bowl.

Top with grated cheese and bake in a pre heated oven at 180 degrees Celsius (356 degrees Fahrenheit) until the cheese melts.

Serve the pasta with a vegetable soup and with some warm toasted brown bread or white bread.

You can have this creamy mushroom pasta without any accompaniment also.
Notes
Pasta: Rigatoni, penne, ziti and farfalle pasta can be easily replaced with macaroni or shell pasta.
Fats:

You can add olive oil instead of butter.

Cream:

Adding 2 to 3 tablespoons of heavy cream will make the mushroom pasta more rich and creamy.

Veggies:

You can skip adding bell pepper in the recipe. Steamed, sautéed or roasted veggies like cauliflower, carrots, zucchini, baby corn, green beans can be added to the sauce before you add the pasta.

Mushrooms:

In place of button mushrooms you can add cremini mushrooms or fresh shiitake mushrooms.
Nutrition Info
(Approximate values)
Nutrition Facts
Mushroom Pasta
Amount Per Serving
Calories 350
Calories from Fat 126
% Daily Value*
Fat 14g22%
Cholesterol 38mg13%
Sodium 484mg21%
Potassium 585mg17%
Carbohydrates 44g15%
Protein 13g26%
Vitamin A 567IU11%
Vitamin B1 (Thiamine) 1mg67%
Vitamin B2 (Riboflavin) 1mg59%
Vitamin B3 (Niacin) 4mg20%
Vitamin B6 1mg50%
Vitamin B12 1µg17%
Vitamin C 78mg95%
Vitamin D 2µg13%
Vitamin E 1mg7%
Vitamin K 2µg2%
Calcium 202mg20%
Vitamin B9 (Folate) 50µg13%
Iron 1mg6%
Magnesium 46mg12%
Phosphorus 277mg28%
Zinc 2mg13%
* Percent Daily Values are based on a 2000 calorie diet.
This mushroom pasta recipe post from the archives (December 13, 2013) has been republished and updated on 18 December 2020.