A bowl of steaming Idli Sambar is comfort food, not just for South Indians, but a lot of people all across India. Personally, for me and my family too, it is a nutritious breakfast every weekend. This is a special recipe of Leftover Rice Idli or Cooked Rice Idli. You can use the rice that is left from your day's lunch or dinner, and make these fluffy idli. You'll be amazed with the taste and texture as its going to be similar to the Idli that is made traditionally in South Indian homes.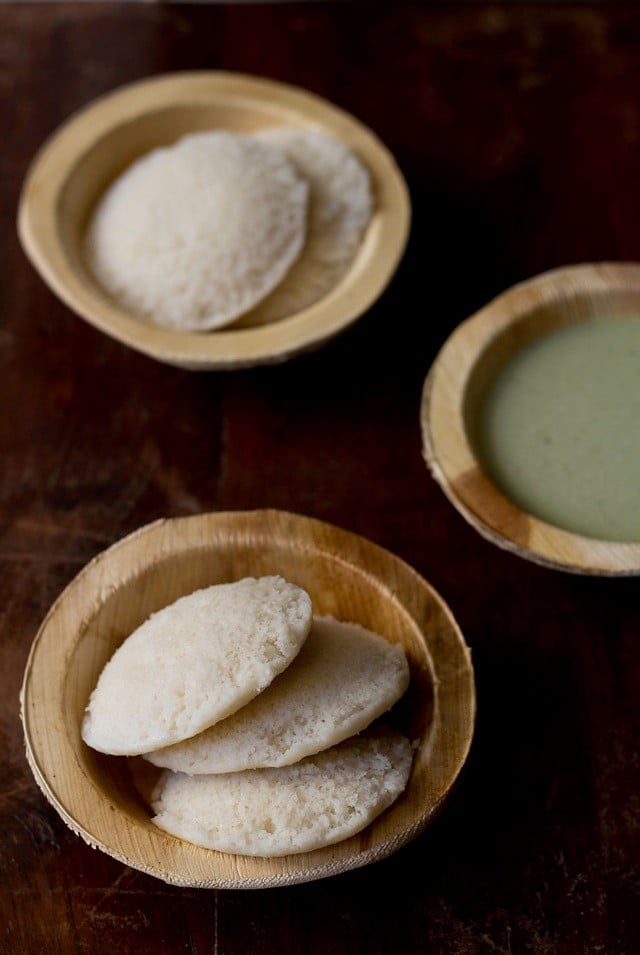 About Leftover Rice Idli
As much as I love the authentic, traditional idli, I even love experimenting with the idli batter. Since the time I came across the recipe of a Leftover Rice Idli in one of the cookbooks I was reading, I had been making it regularly at home. There were times I also did variations and made idli with different lentils, soybean and ragi (finger millet) as well.
The method of making Leftover Rice Idli is similar to that of making the regular Idli. The difference in the ingredients and their proportion is what makes it uniquely textured type of idli.
Steamed rice makes the idli ultra soft and very light. You'll literally feel like you're eating the fluffiest blobs of cotton!
I also add some idli rava (cream of rice) in the recipe. Idli rava is made with idli rice or parboiled rice and not the regular white rice. So keep a note of this when making the recipe. If you do not have idli rava, swap it with idli rice.
Essentially, you have to use cooked rice which is of the same day to make this recipe. So, if you know that you'll have some rice left, then soak some urad dal and idli rava for a few hours before proceeding with the batter. In case you have a batch of day old refrigerated cooked rice, you can use that as well to make these.
However, you can't use the same batter to make dosa as they don't really turn out well. In case of any leftover batter, use it to make paniyaram.
How to make Leftover Rice Idli
Make Batter
1. First prep by rinsing 1 cup idli rava separately in a bowl with water. Soak idli rava in enough water for about 4 hours.
Similarly rinse ½ cup cup urad dal (husked black gram) in water a few times. Soak urad dal in a bowl filled with enough water for 4 hours.
Before grinding the ingredients, drain the water from the soaked idli rava. Take portions of the idli rava in your fist and squeeze it tightly to remove any extra water. Add this squeezed portion of the idli rava to the mixer-grinder or a sturdy blender.
Work on portions of rava this way and add them to the mixer-grinder or blender. Drain all of the water from the urad dal. Add the soaked urad dal to the blender.
Next add in 1 cup cooked leftover rice (I used cooked sona masuri rice). Add about 8 to 10 tablespoons of water at intervals and grind to a smooth and fine batter.
The batter has a thick to medium-thick consistency and should be flowing. If the batter looks very thick, you can add some more water while grinding.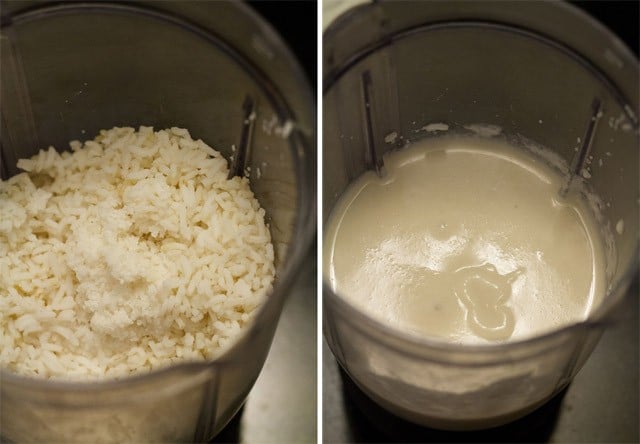 2. Pour the batter in a pan and stir in some rock salt as required. Cover and let the batter ferment overnight or for 8 to 9 hours.
Since the temperatures are not the same everywhere, the fermentation time will vary and be more. If the batter has not increased in volume, allow it to ferment for some more hours.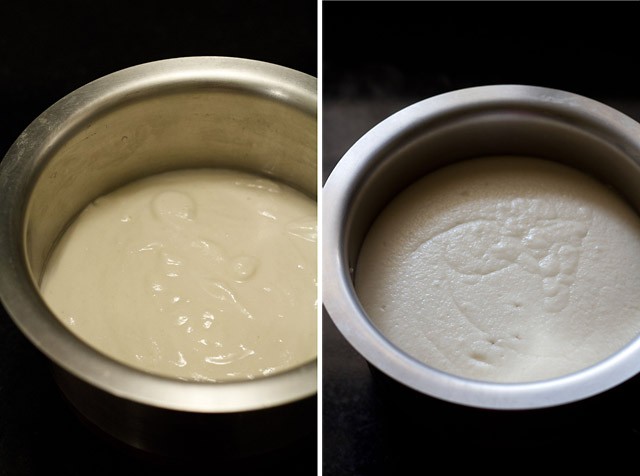 Make Leftover Rice Idli
3. Grease the idli pans with some oil and pour the batter in the moulds. Steam for 10 to 12 minutes in an idli steamer or electric cooker or the Instant Pot adding water as needed.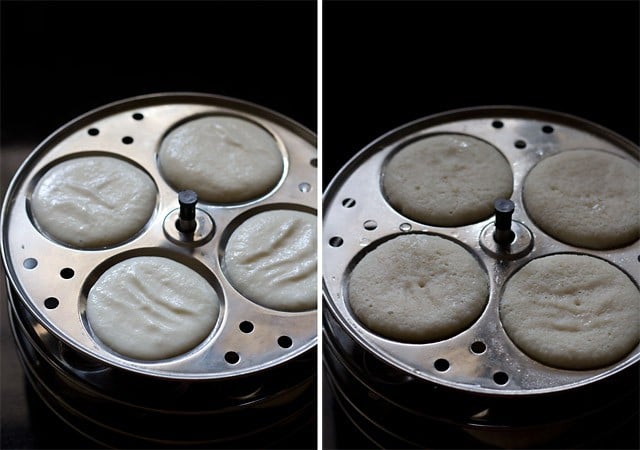 4. Serve Leftover Rice Idli hot or warm with coconut chutney. You can also serve sambar with these Cooked Rice Idli.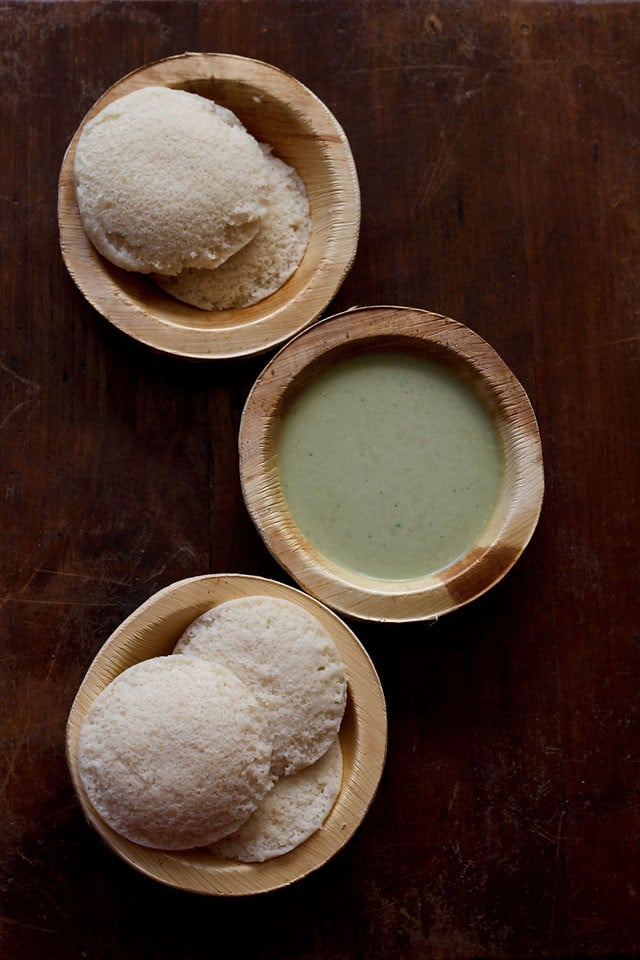 Not So Leftover
The way Indians use their leftover food in many more mouth-watering recipes is something spectacular. After all, this habit is ingrained in us as food is an emotion, nothing less than God for us. So, we cannot simply waste food under any circumstances. Yes, if it is spoilt, then it's a different thing. Otherwise, never.
Steamed rice or cooked rice has probably been the most common form of leftover food in India. I mean, you visit any household in the Indian subcontinent, the leftover rice is regularly used to make a variety of other quick and tasty dishes.
This Leftover Rice Idli is one of those recipes. Along with this there are others like the Rice Pakoda, Lemon Rice, Rice Cutlet and Masala Rice. For more of such quick fix recipes with cooked rice, check out the Leftover Rice Recipes link.
Some regional favorites with other leftover food are Aloo Tikki Chole with leftover Chana Masala, chawal and chana dal paratha with cooked rice and leftover chana dal.
The left over bhaji of the Mumbai special Pav Bhaji is uses as a filling in dosa and sandwiches. The leftover idli or dosa batter is also used to make Kuzhi Paniyaram or Sweet Paniyaram from the cuisine of Tamil Nadu.
More Idli Varieties To Try!
Please be sure to rate the recipe in the recipe card or leave a comment below if you have made it. For more vegetarian inspirations, Sign Up for my emails or follow me on Instagram, Youtube, Facebook, Pinterest or Twitter.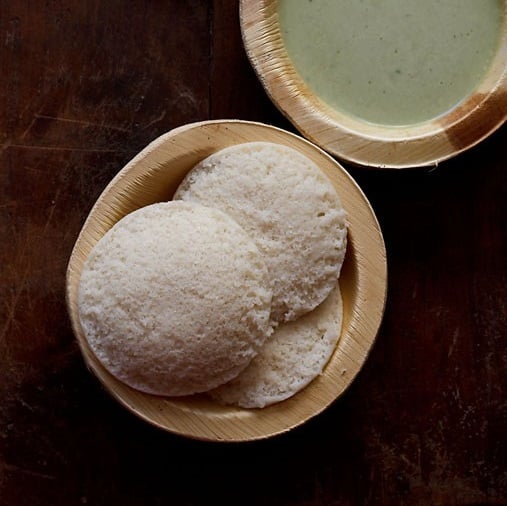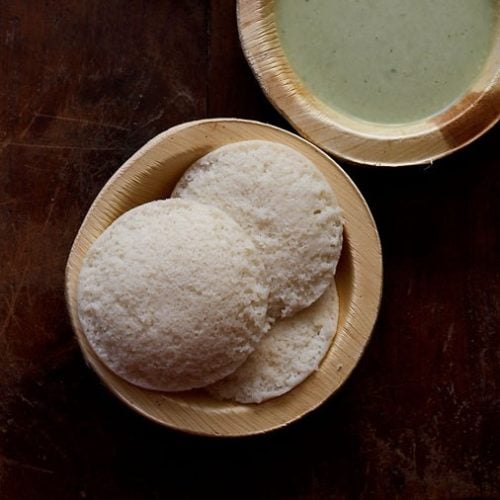 Leftover Rice Idli | Cooked Rice Idli
This is a special and unique recipe of Leftover Rice Idli or Cooked Rice Idli. You can use the rice that is left from your day's lunch or dinner, and make these fluffy and ultra soft idli.
Total Time
9

hours
12

minutes
Servings
16
Leftover Rice Idli
Ingredients
1

cup

leftover rice

or cooked rice or steamed rice

1

cup

idli rava

(cream of rice)

½

cup

urad dal

(husked black gram – whole or split)

8 to 10

tablespoons

water

– for grinding ingredients to make batter

rock salt

(edible and food grade) or sea salt, add as required

oil

as required, for greasing idli moulds
Instructions
Making batter
Rinse urad dal a few times in water. Soak the lentils in enough water for 4 hours.

Rinse the idli rava with water once or twice. Soak the idli rava with enough water for 4 hours.

Drain water from the urad dal and reserve some of its strained water. We will use this water to grind the idli batter. Or you can use fresh water.

Next drain all of the water from the idli rava very well. Take a portion of the idli rava in your fist. Press it and squeeze the extra water from it.

Place this squeezed lump of the idli rava in the blender or mixer-grinder jar. Similarly squeeze water from the idli rava portions and add then to the blender.

Add the urad dal and cooked leftover rice in the blender or the grinder jar.

First add 2 to 3 tablespoons water and grind for a minute.

Stop grinding, and then add the remaining 6 to 7 tablespoons in batches while grinding. Do not add all of the water at once.

Depending on the quality of urad dal and idli rava, you will need more or less water. The batter consistency has to be flowing and can be thick to medium-thick.

The batter should be fluffy, smooth, fine and ground well.

Pour the entire batter in a deep pan or bowl. Mix in salt as needed.

Cover with a lid and let the idli batter ferment overnight or for 8 to 9 hours.
Making leftover rice idli
The next day before making the idli, add 2 to 3 cups water in a steamer or electric cooker or a stovetop pressure cooker.

Switch on the steamer or electric cooker or place the pressure cooker on the stovetop and let the water come to a boil.

Grease the idli moulds with oil. Pour the fermented batter in the idli moulds.

Place the idli pan in the steamer, electric cooker or pressure cooker.

Cover with their respective lids.

If using pressure cooker, remove the vent weight (whistle) from the lid.

Steam for 10 to 12 minutes or more till a tooth pick inserted in the idli comes out clean.

Serve the Leftover Rice Idli steaming hot or warm with some coconut chutney or sambar or both.
Notes
Easily swap idli rava with 1 cup of idli rice.
Keep in mind that perfect fermentation needs warm temperature conditions. If you live in cold climatic conditions, the fermentation will take more time.
Make only idli with this recipe as the dosa does not turn out that well.
The recipe can be scaled easily to make with your leftover rice portions.
Nutrition Info (Approximate Values)
Nutrition Facts
Leftover Rice Idli | Cooked Rice Idli
Amount Per Serving
Calories 92
Calories from Fat 9
% Daily Value*
Fat 1g2%
Sodium 74mg3%
Potassium 17mg0%
Carbohydrates 17g6%
Protein 3g6%
Vitamin A 0.3IU0%
Vitamin B1 (Thiamine) 0.03mg2%
Vitamin B2 (Riboflavin) 0.01mg1%
Vitamin B3 (Niacin) 0.4mg2%
Vitamin B6 0.03mg2%
Vitamin C 0.3mg0%
Vitamin E 1mg7%
Vitamin K 0.1µg0%
Calcium 7mg1%
Vitamin B9 (Folate) 10µg3%
Iron 1mg6%
Magnesium 4mg1%
Phosphorus 18mg2%
Zinc 0.2mg1%
* Percent Daily Values are based on a 2000 calorie diet.
This Leftover Rice Idli post from the archives first published in September 2013 has been republished and updated on 6 July 2022.