Chaat snacks recipes – collection of 38 tasty chaat recipes from blog. The word 'chaat' comes from the hindi word 'chaat' which means to taste or 'chaatna' which means to lick. This one word 'chaat' aptly describes these savory, sweet and tangy snacks as they are finger licking good and no one can eat just one.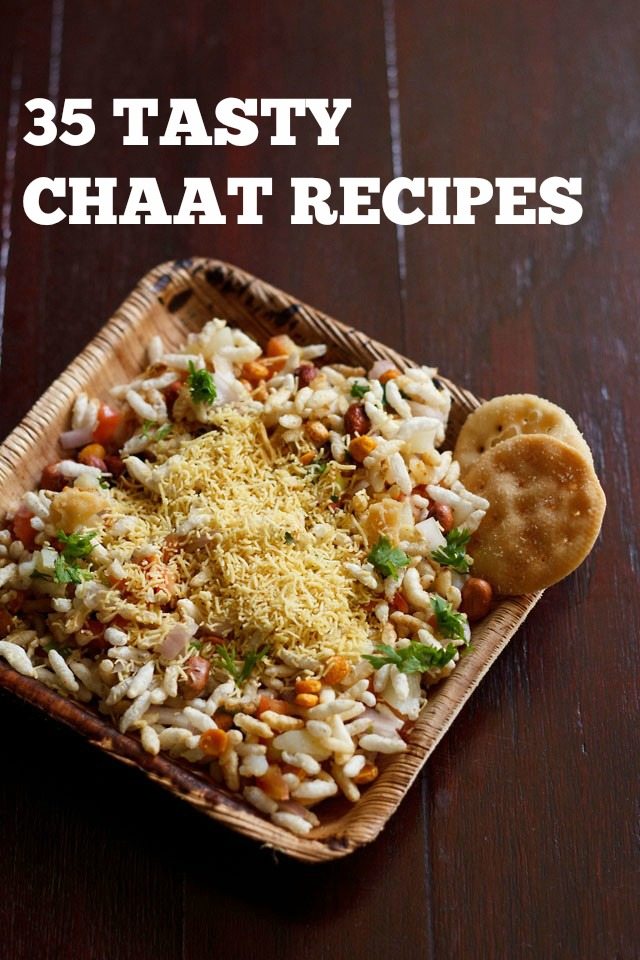 Chaat masala is an essential and indispensable ingredient that is added to all the chaat recipes. Apart from chaat masala, another ingredient that is added is black salt.
Chaat recipes are an integral part of Indian cuisine and each state & city in India, has their own favorite chaat or their own way of making a chaat snack. E.g. Pani puri made in Mumbai is different than the golgappa served in Delhi and the puchka served in Kolkata. Usually chaat snacks are served in stalls or carts. But they can be easily made at home.
Being from Mumbai, chaat has always been my favorite and I know also how the chaat recipes are made. Thus my family gets to enjoy a variety of chaat recipes that I make at times. I have covered most of the chaat recipes from Mumbai & Delhi and will try to cover other cities too. As and when I prepare a chaat recipe, I will update this post too. You can also check these similar recipes collections:
Collection of 38 tasty chaat recipes
1. Pani puri recipe – a popular street food of India, where crisp fried dough balls are stuffed with potatoes, sprouts, spicy tangy water and sweet chutney. With so many burst of tastes and flavors in your mouth when you have pani puri, you just cannot have one :-). You can also check this Mumbai style pani puri recipe.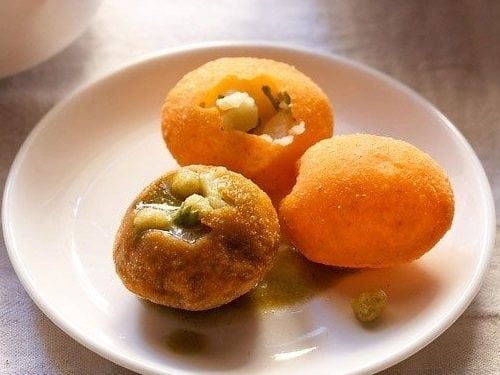 2. Aloo tikki chole – crisp & browned spiced potato patties served with a spicy North Indian chickpea curry along with a green chutney and sweet chutney with some tidbits.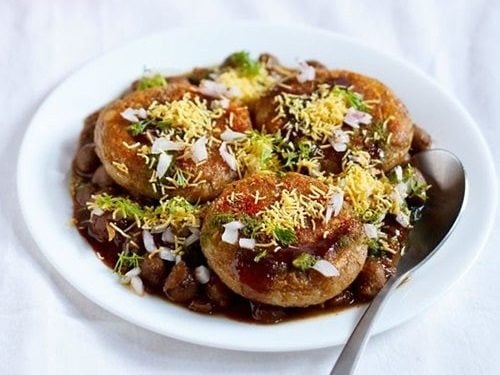 3. Dahi bhalla chaat recipe – a popular snack in north India, particularly in Delhi and Punjab. Dahi bhalla are slightly different from dahi vada. In dahi bhalle, papdis, boiled potato cubes and cooked chickpeas are added which add different textures, taste and flavor to the dahi bhalla.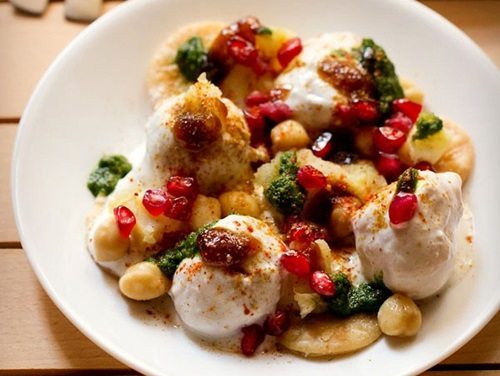 4. Bhel puri recipe – a crispy, soft, sweet, tangy, spicy mixture of many edibles like puffed rice, roasted peanuts, sweet chutney, green chutney, onions, tomatoes, sev etc. A snack that can be made in a jiffy if you have all the ingredients ready.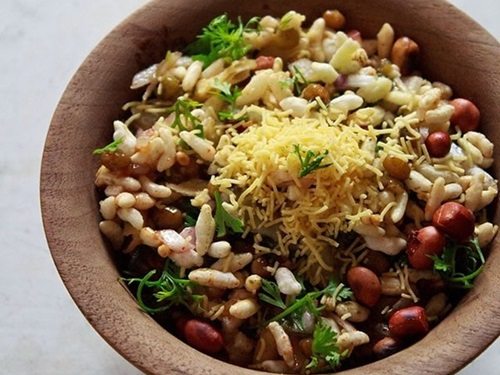 5. Dahi papdi chaat recipe – a popular chaat snack which is sweet, spicy and tangy. in this dahi papdi chaat, you will get to taste the sweetness of the curd, crispiness of papdi, soft melt in the mouth boiled potatoes and not to forget the Indian spices which adds their own zing, tang and spiciness in the dish.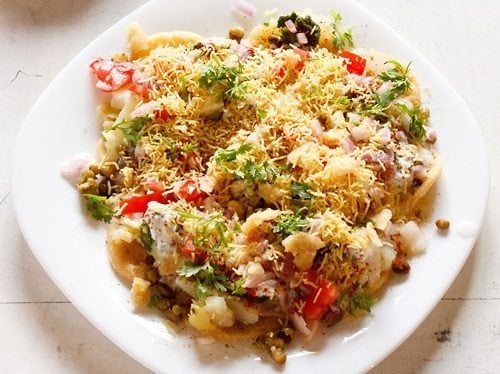 6. Samosa chaat recipe – lip smacking chaat recipe with Samosas, chana masala, various chutneys and spices.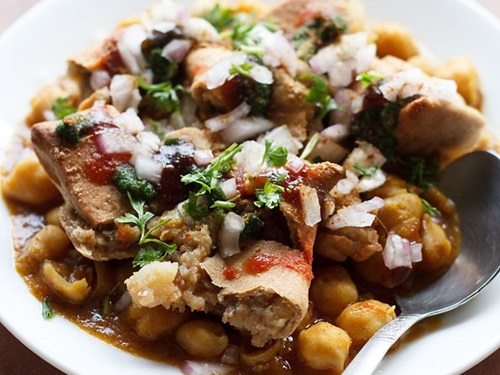 7. Sev puri recipe – a spicy, sweet and tangy street snack from Mumbai. its easy to assemble sev puris. Just that some of the ingredients need to be prepped up before you start assembling them.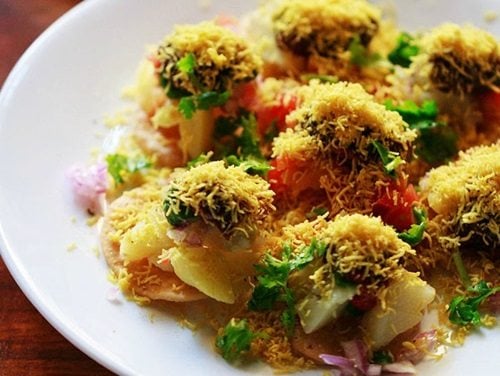 8. Aloo chana chaat recipe – spicy, tangy, sweet chaat recipe made with boiled potatoes and white chickpeas (safed chole or chana). the chana chaat recipe can also be made into a salad. Just add some grated carrots, blanched french beans, beetroots, zucchini to the chaat. Skip the papdi and sev, if serving as a salad.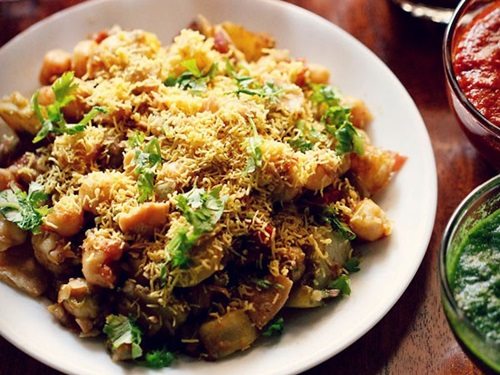 9. Ragda patties recipe – a popular street food snack from Mumbai. Crisp potato patties served on a bed of  white peas curry, herbs and spices.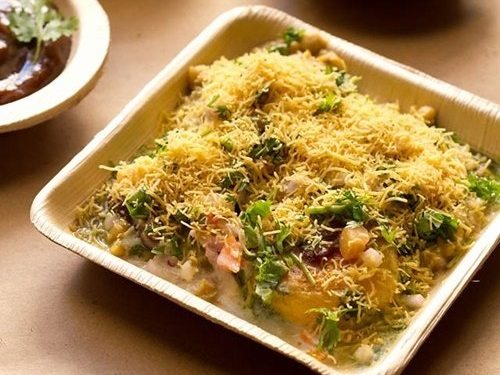 10. Dahi vada recipe – popular North Indian street food snack where lentil dumplings are dunked in a creamy whipped yogurt topped with spicy and sweet chutneys.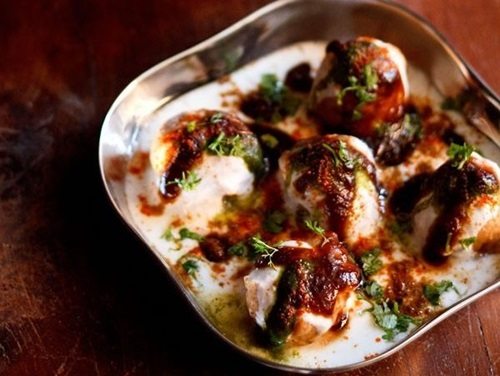 11. Moong sprouts chaat recipe – quick and easy chaat made with moong sprouts. Combining moong sprouts with Indian spices and herbs, chutneys makes for an excellent chaat snack. The recipe is simple and even without the addition of chutneys taste good.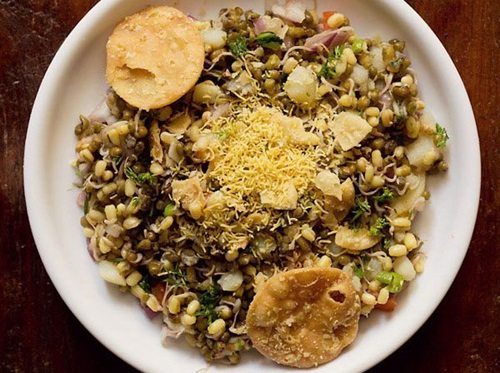 12. Dahi aloo tikki recipe – a popular street food snack of potato patties topped with yogurt, sweet tamarind chutney, Green chuTNey and spice blends.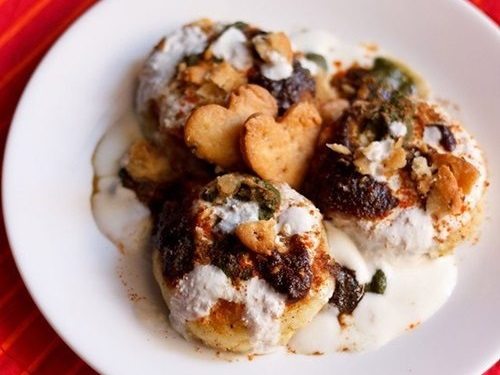 13. Sweet potato chaat recipe – one of the most easy to prepare chaat recipe with sweet potatoes or shakarkandi. This shakarkandi chaat can also be made during religious fasting days like Navratri fasting.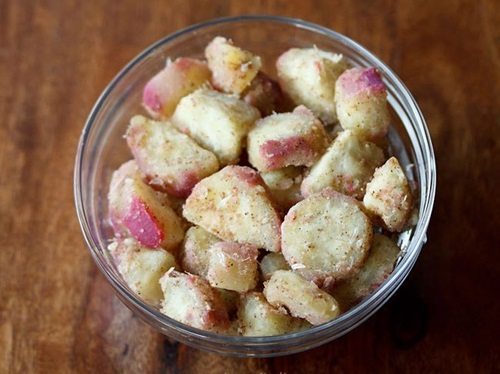 14. Dahi puri recipe – a yummy chatpata chaat snack from Mumbai. This chaat has its name dahi sev batata puri, since dahi (yogurt), sev (fried thin gram flour vermicelli), batata (aloo in hindi or potato in english) and puris are used to make this awesome snack.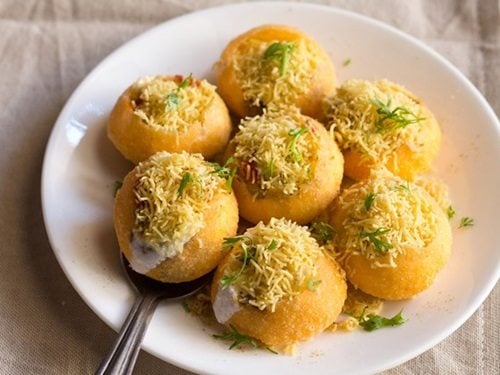 15. Corn chaat recipe – this spicy corn chaat is an easy snack which you can prepare quickly or whenever you are short of time. Even bachelors can make it as it does not require any cooking expertise.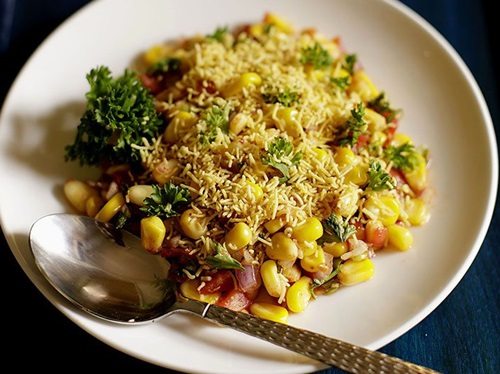 16. Palak chaat recipe – crisp fried palak pakora topped with spicy green chutney, tangy and sweet tamarind dates chutney and onions, sev and spice mixes.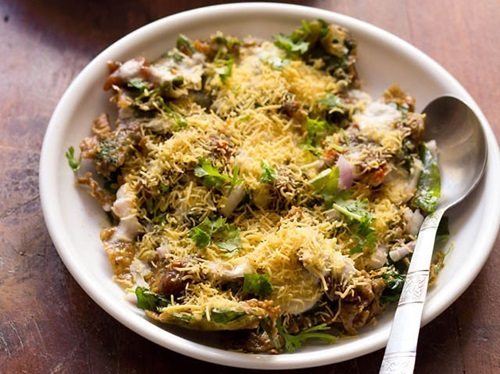 17. Idli chaat recipe – pan fried crisp idlis topped with chutneys, onions and sev. Its a good way to use left over idlis. If you have made idlis at home and there are some idlis left, then you can try this recipe. If you love idlis and chaat, then this recipe is for you.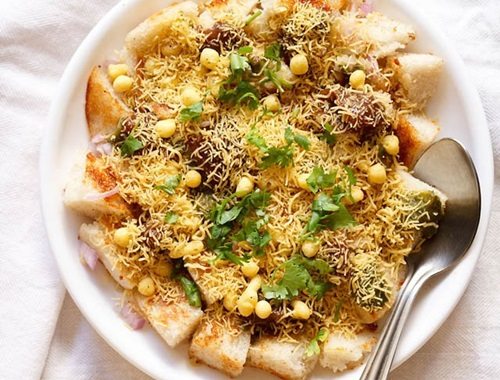 18. Kala chana chaat recipe – this black chickpeas chaat is spicy, tangy and can be made more spicy, if you add some more chilies to it. This also serves as an excellent starter and can be served both warm and chilled.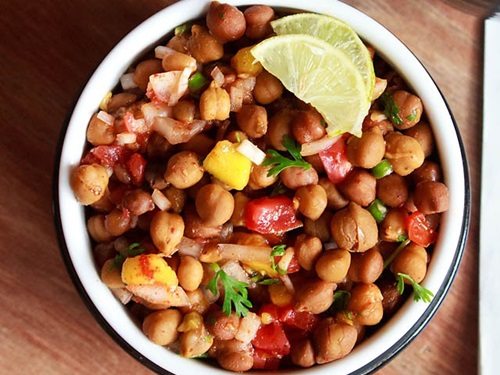 19. Aloo chaat recipe – one of the most easiest chaat recipes that one can make is aloo chaat. Aloo chaat is basically fried crisp potato cubes tossed in spicy & sweet chutneys, a few spice powders and then topped with curd or pomegranate arils or sev.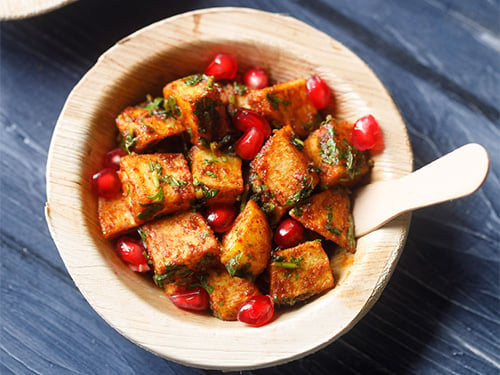 20. Raw mango chaat recipe – tangy and spicy chaat made with raw mangoes, puffed rice and other ingredients. if you prefer a balance of sweetnees and tang, then add some sweet tamarind chutney in the chaat. Or you can also add sweetened yogurt (curd).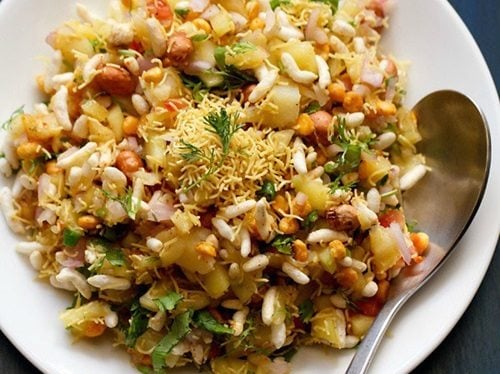 21. Fruit chaat recipe – Delhi style fruit chaat recipe. Spiced Indian fruit salad.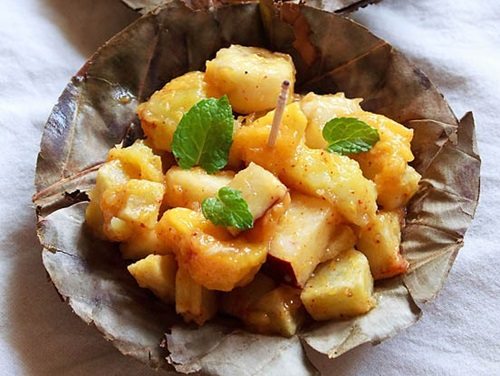 22. Murmura chaat recipe – this puffed rice chaat is a light and healthy snack with mildly spiced flavors.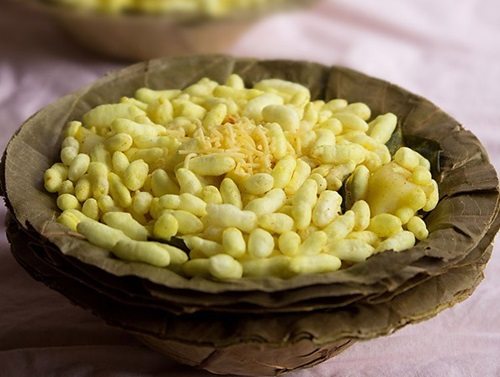 23. Papdi chaat recipe – in this chaat, besides the papdis, a melt in the mouth fusion of boiled chickpeas, potatoes and pakoris (fried black gram fritters) and curd is added.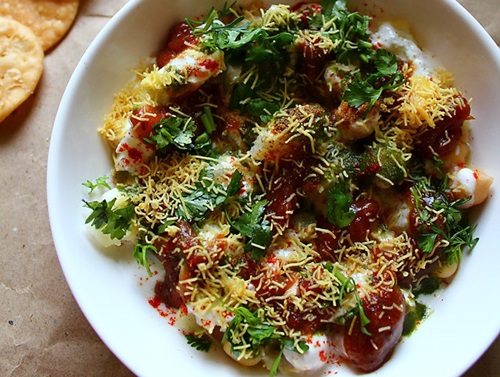 24. Masala corn recipe – masala corn is a favorite with kids and most of us. You can always add your choice of spices or add less or more and make a lot of variations in the recipe.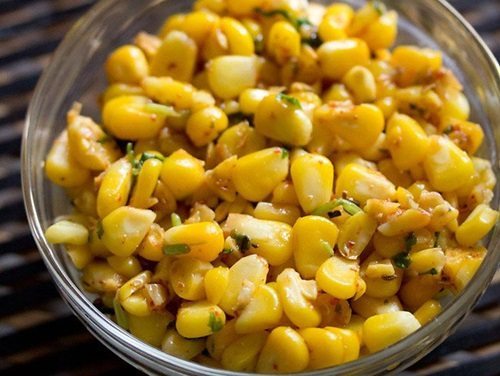 25. Safed chana chaat recipe – this recipe of chana chaat is a quick one if you have leftover boiled chana (white chickpeas). you could serve the chaat warm or cold. It can be served a starter, snack or even can be had as a brunch.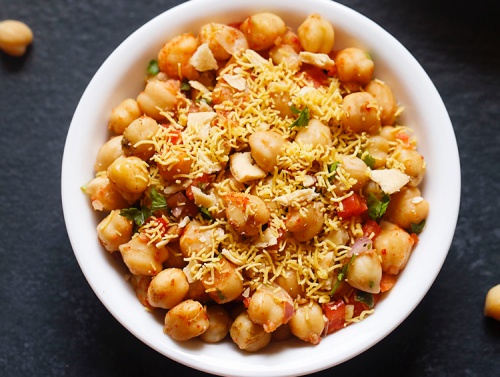 26. Chana dal bhel puri recipe – spicy and tangy Indian street food made from masala chana dal or spiced bengal gram.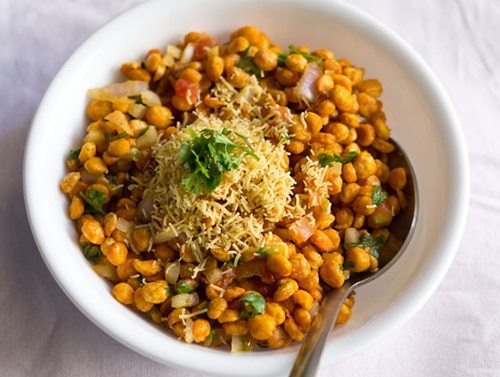 27. Sookha bhel puri recipe – there are a lot of textures in this crisp and crunchy snack. Along with fresh flavors and tastes. Sukha bhel puri is crisp, crunchy, tangy and spicy – chatpata 🙂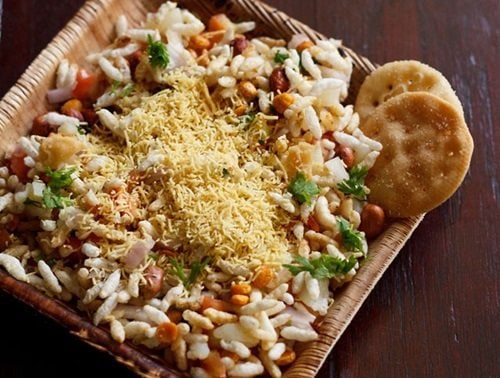 28. Ponk chaat recipe – a savory mixture made with tender jowar or sorghum also known as hurda in marathi and ponk in Gujarati language. This hurda chaat is a nutritious, vegan and gluten free snack. these green tiny tender jowar grains are rich in nutrients and very good for health. I have posted few more snacks recipes made with them like: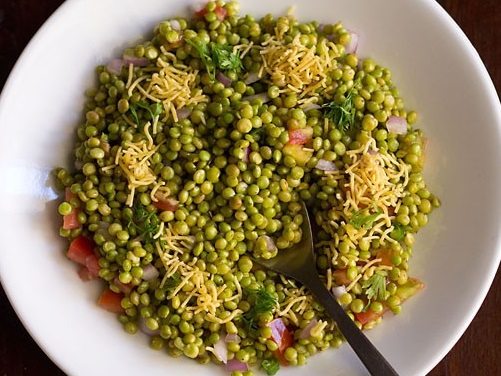 29. Ram ladoo recipe – a popular street food snack from Delhi. These are basically fried pakoras or vadas made from moong dal and chana dal batter. However they are called as ram ladoos.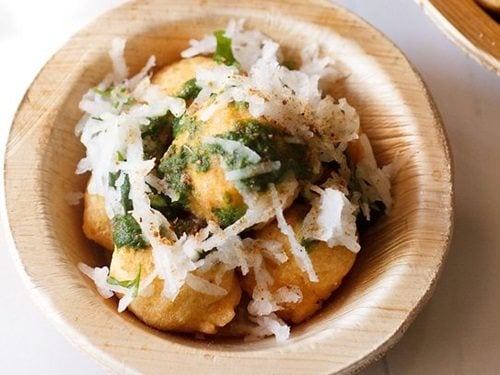 30. Sukha puri recipe – street food snack made with pani puri, boiled potatoes, spices and sev. sukha puri is one of those snacks which we often ask the street food vendor (we would called them as bhaiya ji in Mumbai) as a complimentary snack after having any street food snack.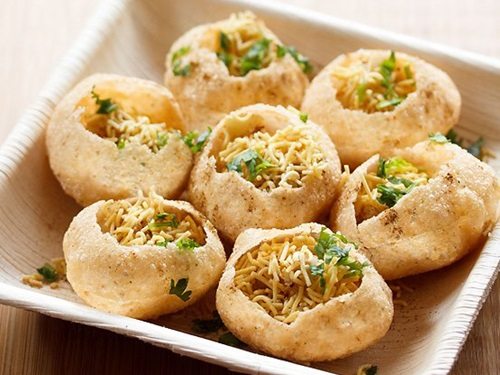 31. Ragda chaat recipe – easy and a delicious chaat made with ragda, spices and herbs. Ragda is a preparation made with dried white or yellow peas. If you have boiled the ragda earlier then this chaat can be made in less than 5 minutes. Assembling the chaat is very easy. If you skip the puri and sev, then this chaat is low on calories and yet tastes good.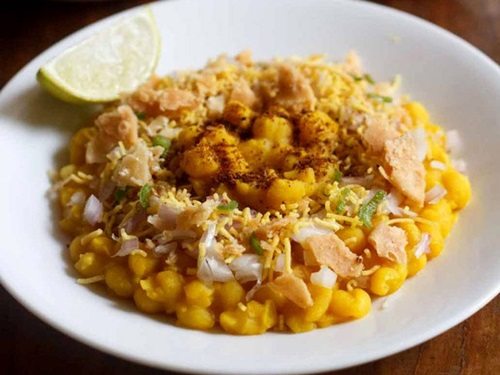 32. Masala puri recipe – masala puri chaat is a chatpata, spicy, tangy and tasty street food snack from bangalore. To make masala puri, you need to have the Golgappa or puri which are used in making Pani puri. a spicy gravy is made from dried white peas. The recipe bears semblance to ragda chaat, but the taste is totally different.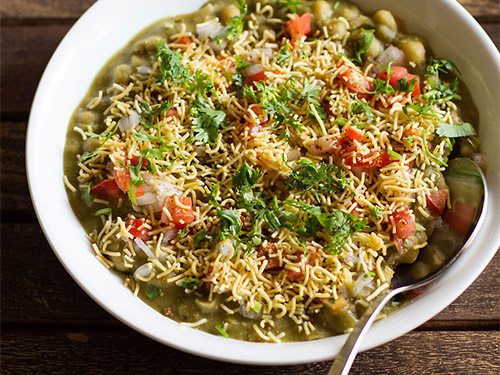 33. Aloo tikki chaat recipe – a super delicious chatpata dish. In aloo tikki chaat fried Potato patties are topped with a tangy sweet tamarind chutney and spicy green chutney along with curd (yogurt).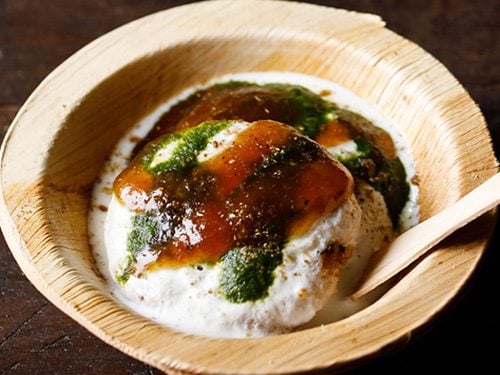 34. Indori poha recipe – one of the popular street food snacks from Indore is poha with jalebi. Indori poha has a sweet, sour and spicy taste. The textures in this dish also ranges from soft to crispy to crunchy. So in one plate you get many tastes, flavors and textures.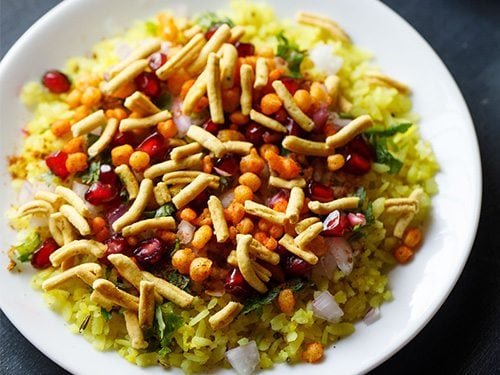 35. Chinese bhel recipe – Chinese bhel is a fusion recipe that is made for Indian tastebuds. Similar to Bhel puri, Chinese bhel has sweet, tangy and spicy taste. This recipe of Chinese bhel is too delicious and tastes exactly like a chaat snack.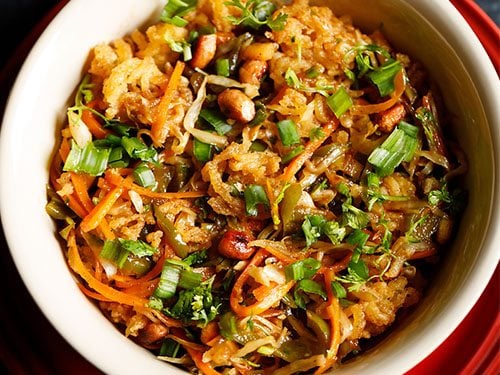 36. Aloo katori chaat recipe – katori chaat also known as tokri chaat is a popular chaat snack from north India. Fried potato baskets are topped with cooked chana, boiled potatoes, sweet and spicy chutneys, curd and a few spice powders.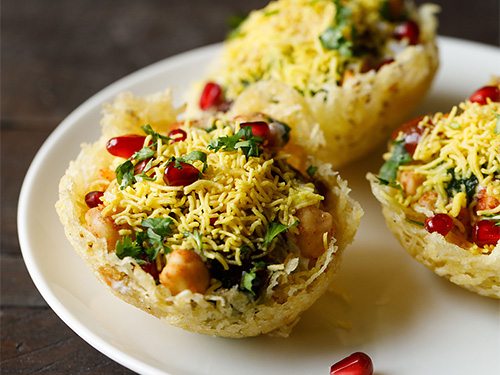 37. Raj kachori chaat recipe – raj kachori is aptly called as the king of all kachoris or a king sized kachori simply because it is royal, rich and splendid dish. The raj kachori recipe I am sharing is A slightly simplified or easier version as I have not added any lentil or besan (gram flour) stuffing in the kachori. Instead I have added the besan (gram flour) in the dough.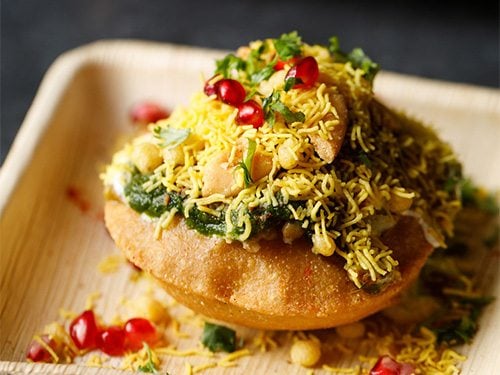 38. Aloo chaat recipe – little spicy, tangy and crispy potato chaat. simple and easy dish that can be made during Navratri fasting or any vrat.