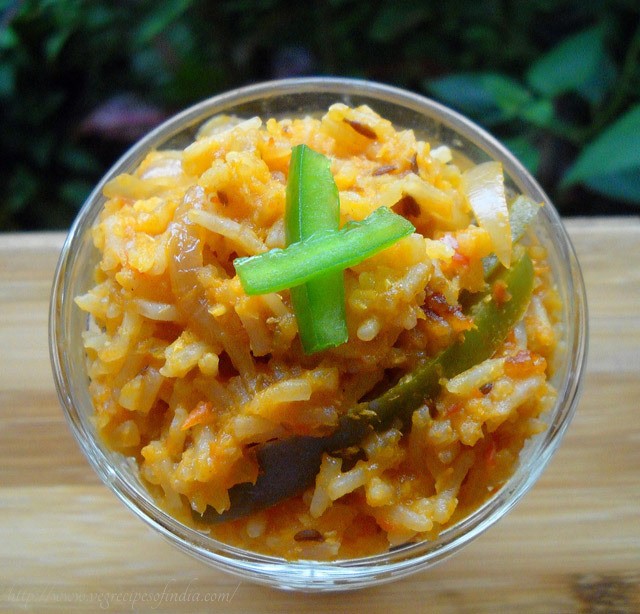 tomato rice recipe with step by step photos – this tomato rice recipe i learnt in my home science days and i still have the notes with me in my journal. i used to make this pretty often. a lot of tomatoes in the house and i was wondering to make tomato rasam or tomato soup or tomato upma or what. couldn't make up my mind.
then just thought to make a one pot meal without me having to cook rice or rotis separately and i knew what i had to make for dinner… this simple one pot meal with rice, tomatoes and capsicum.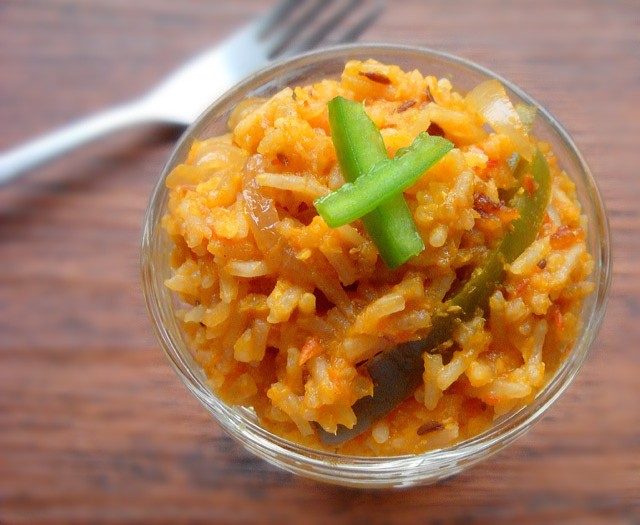 i wonder why its called tomato rice and not tomato capsicum rice. in the sheets that were handed out to us it was called tomato rice. since it uses less numbers of capsicum than tomatoes, at least logically for me i also decide to call it tomato rice.
you can also check this tomato biryani and tomato pulao recipe made using mix vegetables and tomatoes.
if you are looking for more rice recipes then do check vegetable pulao, hyderabadi veg biryani, curd rice, ghee rice and lemon rice recipe.
tomato rice recipe details below:
tomato rice recipe
tomato rice recipe - simple one pot meal with rice, tomatoes and capsicum.
ingredients (1 cup = 250 ml)
5 to 6

tomatoes

1

large capsicum

or 2 small capsicum (shimla mirch)

1

large onion

or 2 small onions

1

inch

ginger

(adrak)

6 to 7

dried garlic flakes

¼ to ½

cup

fresh coconut

or dry coconut

1

teaspoon

cumin seeds

(jeera)

1

teaspoon

cumin seeds powder

(jeera powder)

3

cloves

(lavang)

1

inch

cinnamon

(dalchini)

3

tablespoon

oil

2

cups

rice

salt

as required

water

as required

coriander leaves for garnishing

fresh coconut for garnishing
how to make recipe
preparation for tomato rice recipe:
slice the onions and capsicum.

make a smooth and fine paste of the tomatoes, ginger, garlic, coconut, green chillies, cinnamon, cloves, jeera powder.

clean and wash the rice. you can also soak the rice for 20 to 25 minutes.
making tomato rice recipe:
in a pan heat oil or ghee.

fry the cumin seeds, bay leaves. add the sliced onions and brown them.

now add the sliced capsicum and saute for 2 to 3 minutes.

measure the masala paste in a measuring cup and add it.

for 2 cups of rice you will need 4 cups of the paste.

if the paste yield is less then add water.

add salt and cover and cook the rice till its done.

garnish tomato rice with fresh grated coconut and chopped coriander leaves

serve tomato rice hot.
recipe notes
few tips for making tomato rice recipe:
if you want a more mushy rice add more water. thats what i did. i added 2 cups water later to get a mushy and soft texture.
use the same measuring cup that you have used to measure the rice.
you can also pressure cook the rice.
when the rice is cooking keep an eye on it by checking it with a fork so as to ensure that the rice does not stick to the bottom of the pan. add more water if the water dries up and the rice mixture looks dry.
to add more spice increase the quantity of green chillies.
how to make tomato rice recipe
1. you will need fresh juicy red tomatoes. of course i know you know that, but i have to write something…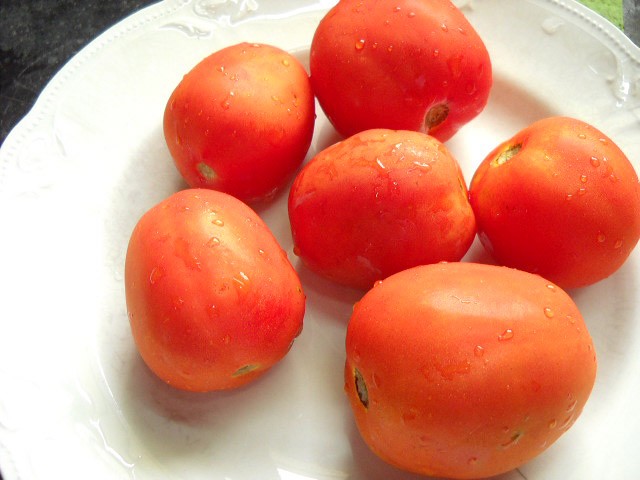 2. chop the tomatoes and green chillies and add them in the food processor or wet grinding jar.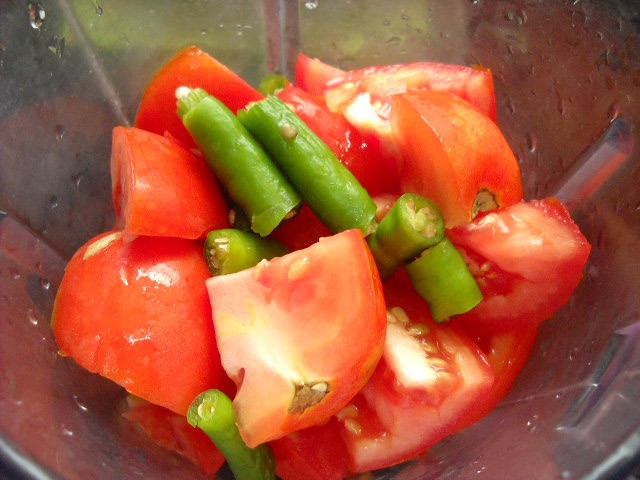 3. add cloves and cinnamon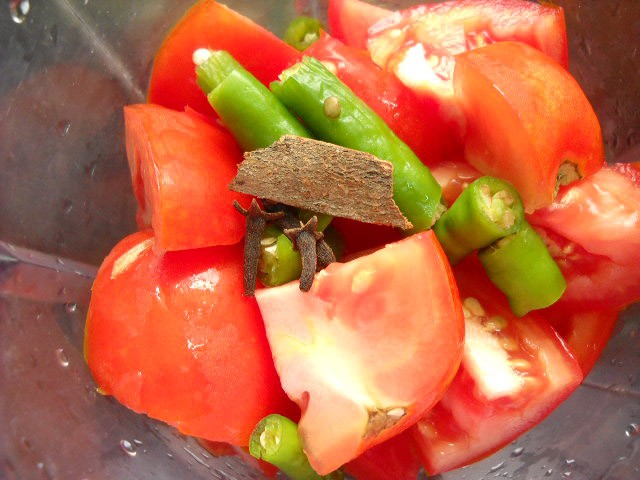 4. put ginger garlic in these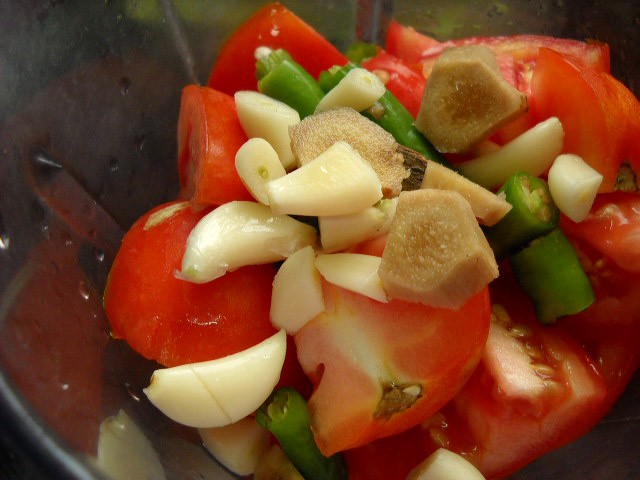 5. add coconut (fresh or dessicated)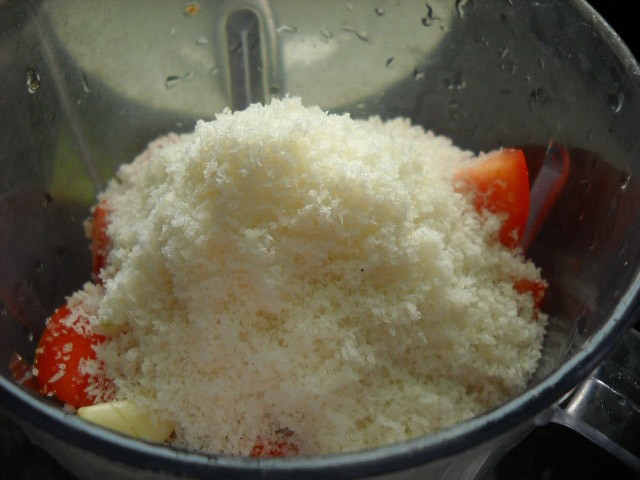 6. finally add the cumin seeds/jeera powder
7. and grind everything to a smooth fine paste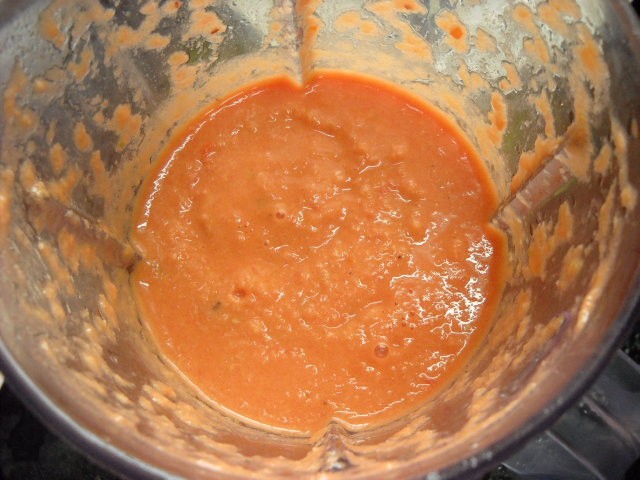 8. in a pan heat ghee or oil. add cumin seeds and let them splutter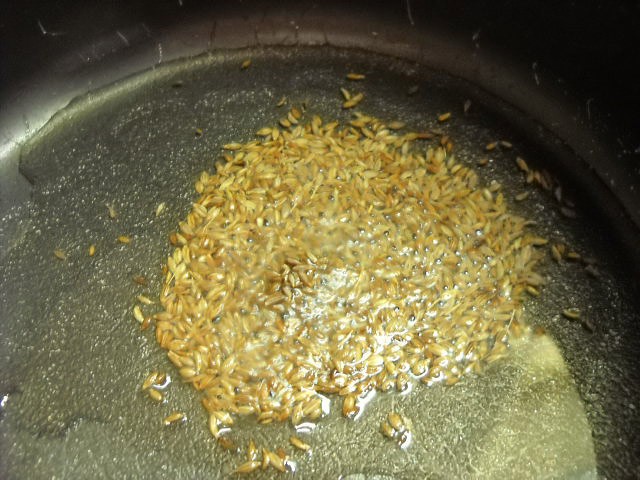 9. add sliced onions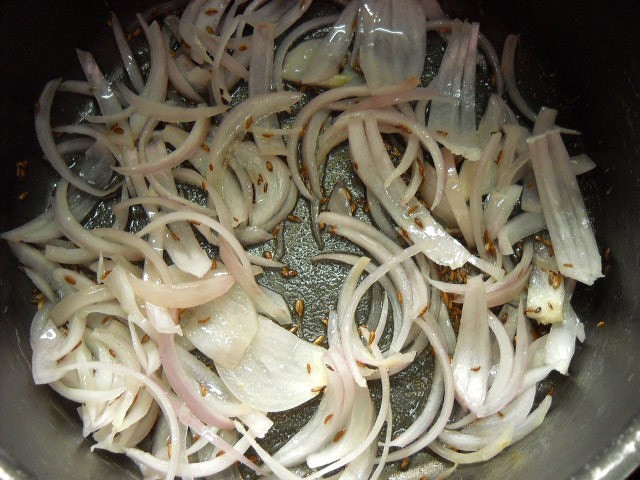 10. i forgot to add bay leaves with the cumin seeds hence i have added them later when the onions were half cooked.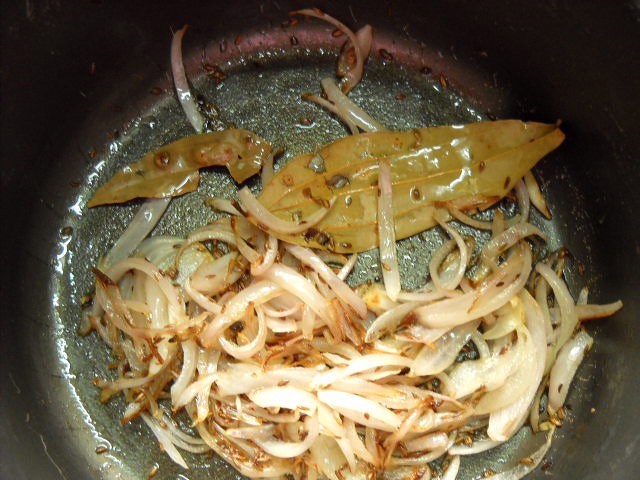 11. brown the onions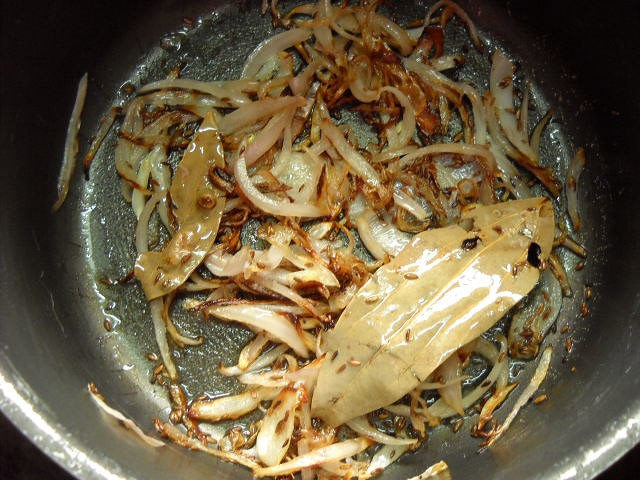 12. and then add sliced capsicum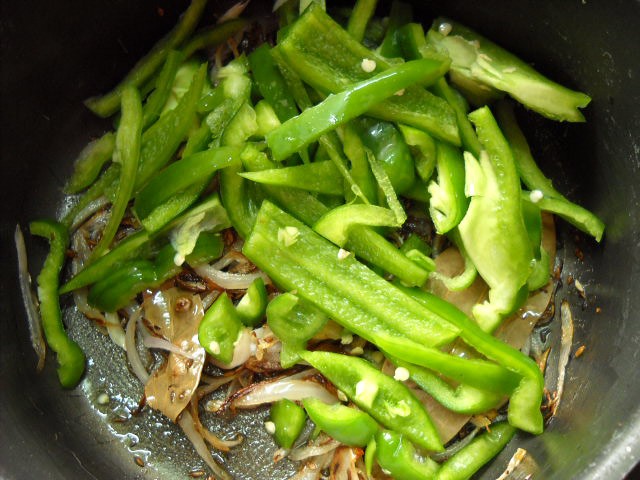 13. mix the capsicum with the browned onions and saute for 2-3 minutes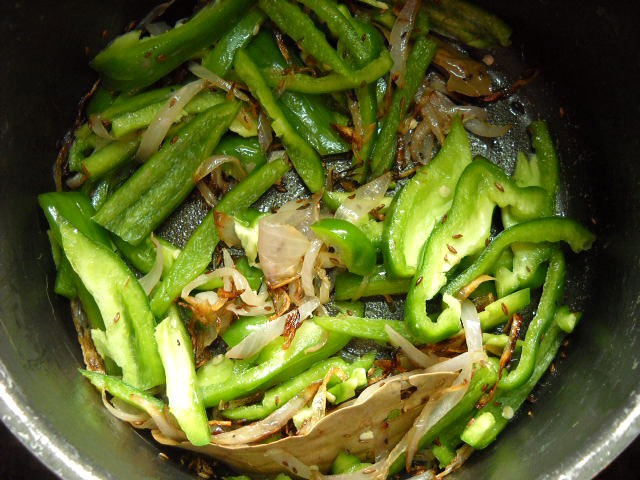 14. now measure the tomato masala paste in a measuring cup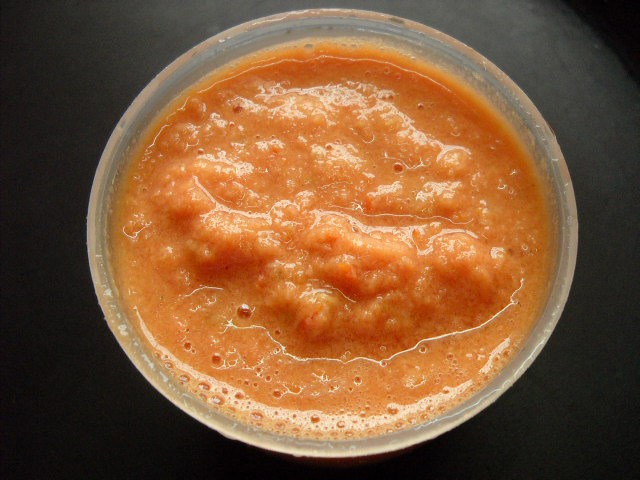 15. since we will be using 2 cups rice we we will need 4 or 4½  cups of the paste. i got 3¼ cups of the tomato masala paste. add the tomato coconut paste to the onions and capsicum mixture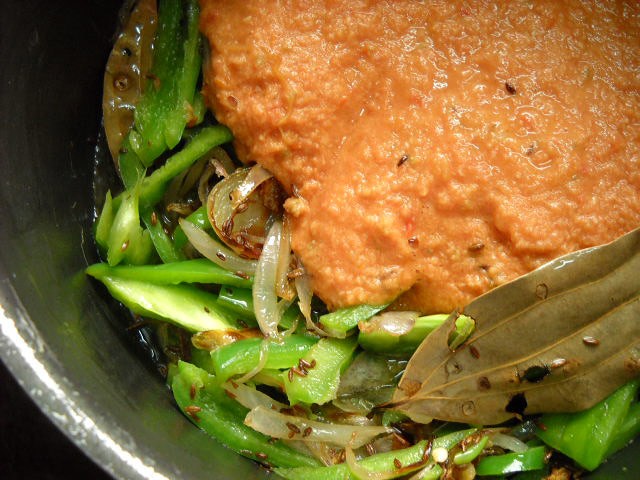 16. add cleaned and washed rice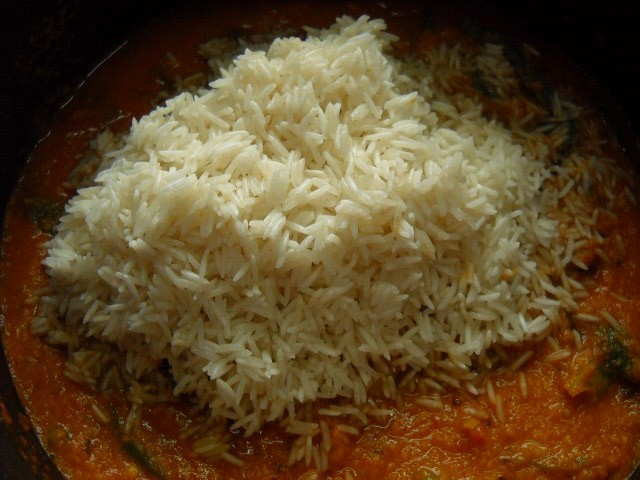 17. i also added ¼ cup of water. remember to add salt.
18. give the whole mixture a nice stir. cover and let the rice cook till its done. serve the tomato rice hot hot…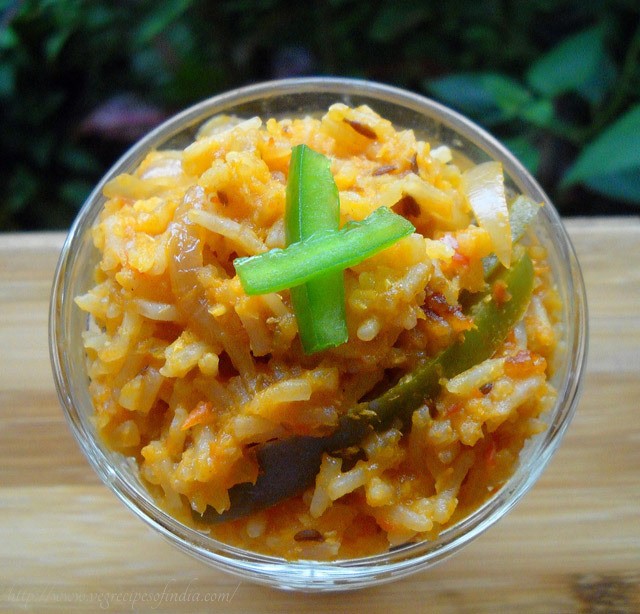 19. this tomato rice recipe is a yummy one… you will soon see the rice disappear slowly slowly.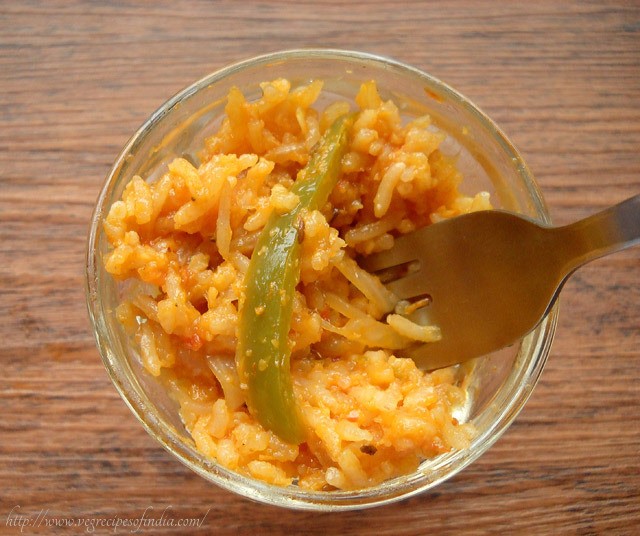 and soon disappear more and more as soon as it is served.