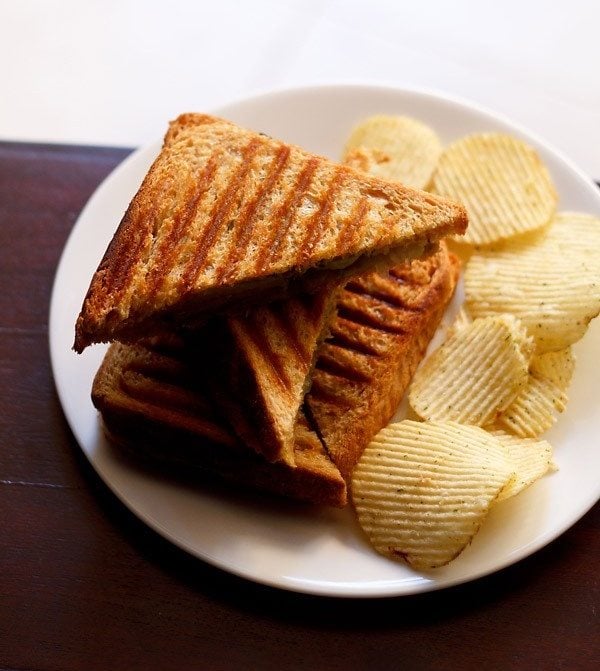 sandwich recipes – sandwich makes for a quick breakfast or snack when you are short of time or want to eat something in hurry.
sandwich are quick and easy to make and does not require much cooking expertise. even bachelors can make it easily. during my schooling in mumbai, i used to have mumbai veg sandwich quite often. you can serve most sandwiches with tomato sauce, coriander chutney, mint chutney. a hot cup of tea and some potato wafers on side will also go very well.
to make sandwich, i suggest to use brown bread, multi grain bread or whole wheat bread as they are more healthier than white bread. you can also check whole wheat sandwich bread recipe and sandwich chutney recipe.
i have complied all sandwich recipes in one post so that it is easier for you to find your favorite sandwich recipe in one post. will update this post as i add more such recipes.
collection of 31 veg sandwich recipes:
1. mumbai veg sandwich – spiced street food snack of toast sandwiches from mumbai. what adds spice to the veg sandwich is the spicy coriander chutney, black salt and chaat masala.
2. club sandwich recipe – this recipe is the club sandwich that used to be served in the restaurants in mumbai.
3. veg pizza sandwich recipe – these veg pizza sandwiches are basically grilled sandwiches. though you can also make toast sandwiches. very easy to prepare, if you have pizza sauce ready.
4. cheese masala toast sandwich recipe – a tasty and popular variety of sandwich from the mumbai street food collection.
5. tomato cucumber sandwich recipe – one of the most easiest and quick sandwich recipe to make.
6. mumbai style cheese chilli toast – tasty toast sandwiches made with cheese, green chilies, green chutney and spices+herbs.
7. aloo toast sandwich recipe – sandwiches made with spiced mashed potatoes. if you have leftover mashed potatoes, then its easy and quick to make these sandwiches.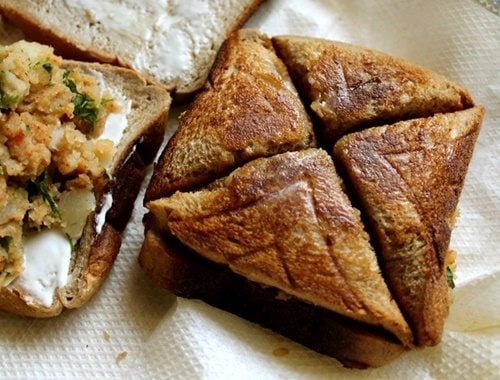 8. bombay veg toast sandwich – step by step recipe of preparing delicious bombay vegetable toast sandwich. popular mumbai street food.
9. paneer sandwich recipe – healthy paneer veg sandwich made using paneer, veggies and herbs. this is a variation of the bombay veg sandwich.
10. mushroom sandwich recipe – an easy sandwich recipe made with sauteed mushrooms. the recipe is simple to make and tastes good too. can be toasted or grilled.
11. chocolate sandwich recipe – quick easy grilled chocolate sandwich made with choco chips. this sandwich is a quick and easy to prepare sweet snack.
12. aloo masala grilled sandwich – easy to make grilled sandwich with spiced mashed potatoes.
13. mumbai grilled veg sandwich recipe – a bombay vegetable sandwich spiced with cilantro chutney and grilled. grilling the sandwich makes the bread slices golden crisp and many people like it that way.
14. chana masala toast recipe – quick toast or grilled sandwiches made with leftover chana masala. this toast sandwich recipe can be made with leftover rajma (kidney beans) or lobia masala too. just keep in mind that the gravy/curry has to be semi dry or dry.
15. rajma sandwich recipe – tasty grilled sandwiches made with a spiced rajma stuffing. you can make these sandwiches from left over rajma also. the consistency of the rajma masala has to be dry or semi dry to make sandwiches. however for this recipe, i have shown the complete method of soaking and cooking rajma.
16. paneer bhurji sandwich recipe – yummy sandwiches stuffed with paneer bhurji and then toasted or grilled.
17. corn sandwich recipe – the filling for this corn sandwich is italian inspired with tomatoes, garlic and fresh basil.
18. chutney sandwich recipe – a four ingredient, quick and easy to prepare chutney sandwich. no onion no garlic recipe.
19. capsicum sandwich recipe – quick and easy capsicum cheese toast sandwich. these sandwiches are not spicy and hence kid friendly. they are fairly easy to assemble and prepare.
20. veg cheese toast sandwich – bombay style vegetable cheese toast sandwich. cheesy toast sandwiches.
21. grilled cheese sandwich recipe – crisp cheesy grilled sandwiches with indian spices. instead of grilling these sandwiches can also be toasted in an electric toaster or a hand held stove top toaster.
22. guacamole toast sandwich – guacamole toast is a quick and healthy snack. all you need is a ripe avocado and some bread.
23. veg masala toast sandwich recipe – a street food from mumbai. the sandwich is very easy to make. you need to make the potato stuffing first. slice the veggies. spread some butter/olive oil and coriander chutney on the bread slices. stuff them with the potato and veggies and then toast them.
24. potato sandwich recipe on tawa – simple but delicious grilled sandwiches stuffed with a spiced potato filling.
25. bombay masala toast sandwich – spiced street food snack of toast sandwiches from mumbai, where the masala is tempered, sauteed & spiced mashed potatoes.
26. matar paneer toast recipe – tasty toast sandwiches made with cottage cheese, green peas and spices.
27. corn capsicum sandwich recipe – easy recipe of a grilled sweet corn capsicum sandwich.
28. corn cheese toast recipe – a simple and easy toast sandwich stuffed with corn which has been seasoned with herbs and cheese.
29. veg coleslaw sandwich recipe – quick to prepare sandwiches with veg coleslaw. i have used a mix of cabbage, carrots and capsicum.
30. curd sandwich – quick and easy sandwich recipe with a spiced veggie curd filling.
31. veg mayonnaise sandwich recipe – easy and quick to prepare mayo sandwich recipe. you can add the veggies depending on what you have. cabbage, carrots, bell pepper (capsicum), steamed corn kernels tastes good in a mayo stuffing.
more recipes collection:
1) collection of 24 biryani recipes
2) collection of 51 paneer recipes
3) collection of 40 mushroom recipes
4) collection of 80 diwali snacks recipes
5) collection of 121 diwali sweets recipes
Install Free iOS App for Veg Recipes of India Recipes
Install Free Android App for Veg Recipes of India Recipes