vegetarian pizza recipes collection. pizza is one of those dishes that is popular all over the world and is liked by both kids and adults. making pizza at home is not at all difficult. in fact homemade pizza tastes much better than the pizza one gets outside.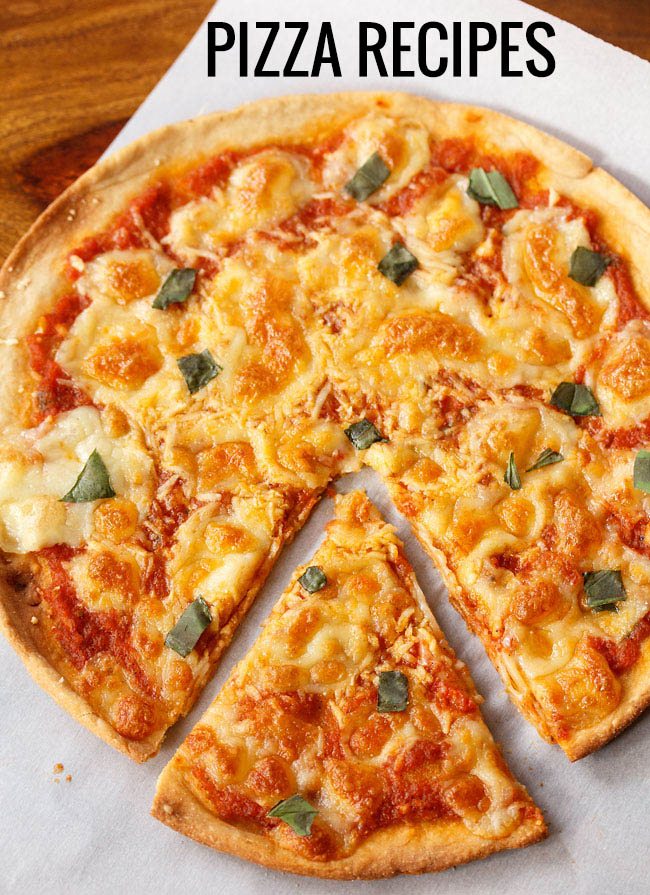 in this pizza recipes collection, i am sharing 9 pizza varieties. i have two more in the drafts and will add them in some time to this collection. since pizza is loved at my place, i do end up making these once or twice in a month.
the pizza base can be made with plain flour (maida) or whole wheat flour. you can even make pizza base gluten free using millet flours. for any whole wheat pizza base, the trick is to knead the dough very well. if you can get this right, then you will have a nice soft textured pizza base and it won't be chewy or dense.
usually yeast is used to leaven pizza dough, but there are ways one can make no yeast pizza too. i have shared no yeast pizza recipe too in this collection. for the pizza sauce, you can make it at home or buy from outside.
i always prefer to make pizza sauce at home. it only take about 15 to 20 minutes to make the sauce at home. so why not have a freshly made tomato pizza sauce without any additives or preservatives. if you want to make the sauce at home, you can check this recipe – homemade tomato pizza sauce.
collection of 9 delicious veg pizza recipes:
1. veg pizza recipe – the all time favorite – vegetable pizza recipe from scratch. this is a tried and tested vegetarian pizza recipe and if everything is followed correctly, you will be able to make great pizzas with a choice of your toppings for your family and friends. the vegetarian pizza beat all the pizzas i had in indian metros like the dominos pizza, smokin joes and even pizza hut.
2. whole wheat veg pizza recipe – healthy and delicious pizza made with whole wheat flour and topped with assorted veggies. apart from this pizza, i have shared few more recipes which are made more healthier with the use of whole wheat flour like:
1. whole wheat momos
2. whole wheat pizza dough
3. whole wheat chocolate cake
4. whole wheat cake (atta cake)
5. whole wheat sandwich bread
6. whole wheat baked doughnuts
7. whole wheat nankhatai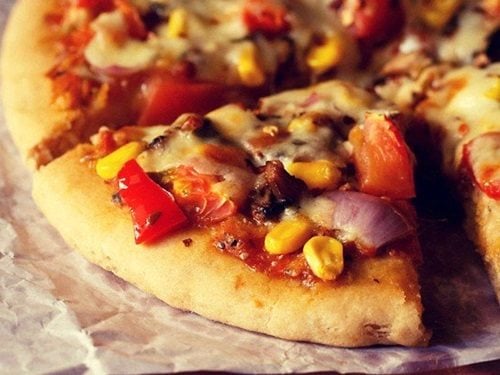 3. margherita pizza recipe – easy and most delicious classic margherita pizza. i have used whole wheat pizza dough to make this pizza. you can also make this pizza with a no yeast pizza dough or use your favourite pizza dough.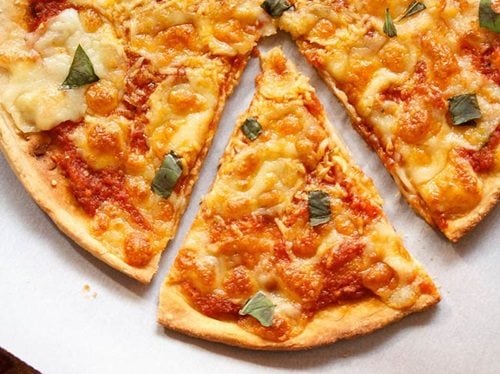 4. bread pizza recipe on tawa or pan – this bread pizza on tawa is a quick, easy and tasty bread snack. the bread base mimics the pizza base with veggie toppings. of course the taste of bread pizza is different than the regular veg pizza. you can use any variety of bread to make bread pizza like whole wheat bread or white bread or multi grain bread or brown bread or whole wheat sandwich bread.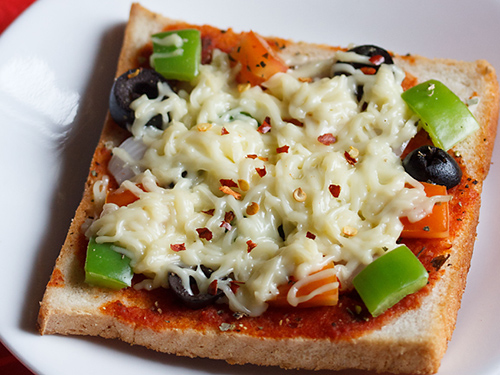 5. tawa pizza recipe – no yeast – easy to prepare delicious veg pizza on tawa or on a stove top. if the both the pizza sauce and the dough is ready, then assembling and cooking pizza on tawa is pretty quick. the only flip side of cooking pizza on a tawa is that the veggies as well as the cheese does not get browned or golden. else the veg pizza tastes good and the pizza base is also nicely done and crisp.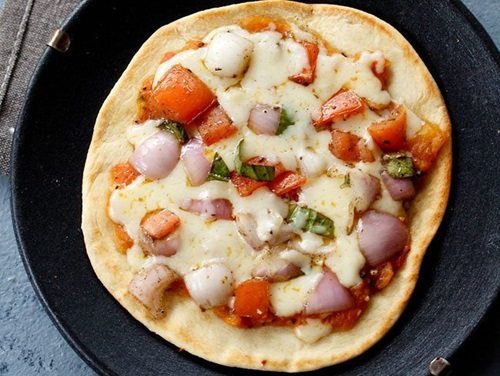 6. thin crust pizza recipe – this recipe is one of the best thin crust pizza recipe, which gives a crisp and light thin crust pizza base.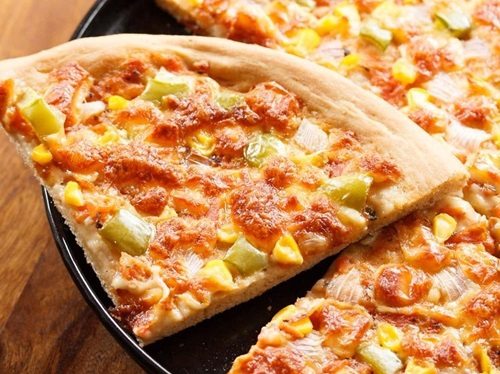 7. paneer tikka pizza recipe – looks daunting but trust me this desi pizza is very easy to prepare and taste yum. this delicious paneer tikka pizza is a must try for folks who like paneer, pizza and desi indian flavors. this is a healthy pizza as the pizza base is made from whole wheat flour. everything except the mozarella cheese, is made from scratch including the paneer or cottage cheese.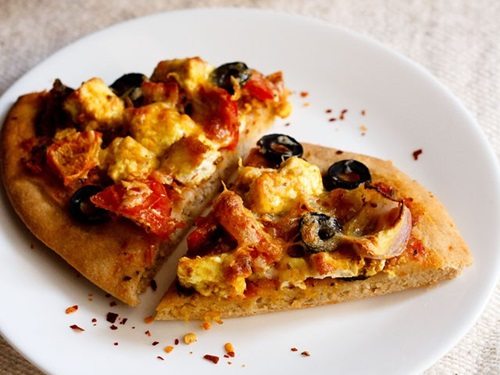 8. calzone recipe or closed pocket pizza – a vegetarian recipe of calzone stuffed with a filling of red bell peppers, herbs and cheese. calzone are basically folded italian breads stuffed with veggies and cheese. the outer bread is made from pizza dough. smaller shaped calzones can be fried too, but usually they are baked. if you have some leftover pizza dough, then its quick to prepare the calzones. apart from a nice snack, they also go well as tiffin or lunch box snack.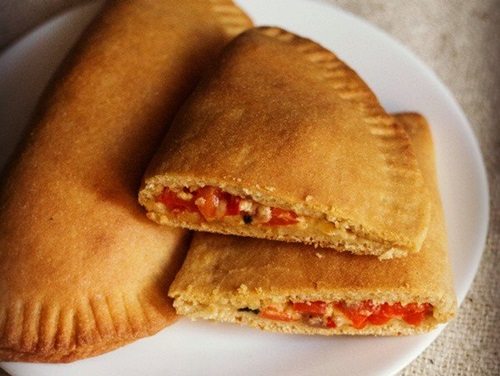 9. bread pizza recipe – a quick and easy recipe to make delicious vegetable bread pizza. when you have leftover bread slices, there are many snacks you can make from them. this veg bread pizza is one of them. few more tasty bread snacks recipes you can make are bread pakora, bread vada, paneer bread rolls, garlic bread on tawa and bread besan toast.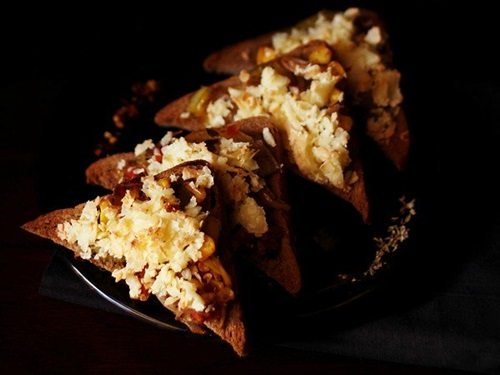 related recipes:
1. whole wheat pizza dough – a simple and easy method to make a pizza dough from 100% whole wheat flour or atta. this recipe gives a soft textured pizza base and one which is crisp from outside after getting baked. there is no denseness or chewiness felt in the pizza bread.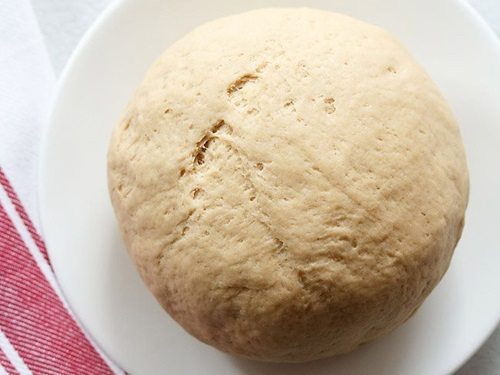 2. no yeast pizza dough – easy to prepare pizza dough without yeast. here i have used all purpose flour (maida).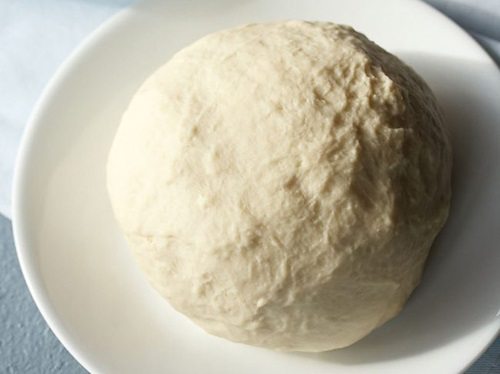 3. homemade pizza sauce –  an easy & quick recipe to make basic pizza sauce with fresh tomatoes, garlic and basil. this sauce works well for 4-5 medium sized pizzas. the recipe can easily be doubled. since the method and recipe is easy, you can adjust the quantity of herbs as per your choice.