top 31 mumbai street food recipes – this post is a collection of the popular mumbai street food recipes that are a favorite with us as well as readers of the website.
being born and brought up in mumbai, its street food has always been my favorite, both then and now. hence thought of compiling a post with all the street food i have grown up having. of course pani puri and pav bhaji tops the list as its one of my favorite street food since childhood.
you can easily make these veg recipes at home and they are not difficult. just a little planning and you can enjoy them with your family and friends. the collection list mostly covers snacks, a few main course recipes and some beverages. i have tried to include all the popular ones. in case i have missed any famous snack, then do let me know.
you can also check these popular recipes collections:
1. 32 chaat recipes
2. 22 bread snacks recipes
3. 115 diwali snacks recipes
4. top 10 street food recipes
top 31 mumbai street food recipes:
1. pani puri recipe – a popular street food of india, where crisp fried dough balls are stuffed with potatoes, sprouts, spicy tangy water and sweet chutney. with so many burst of tastes and flavors in your mouth when you have pani puri, you just cannot have one :-). to make puris at home, you can refer this post on puris for pani puri recipe. i have also shared mumbai style pani puri recipe where moong sprouts are added.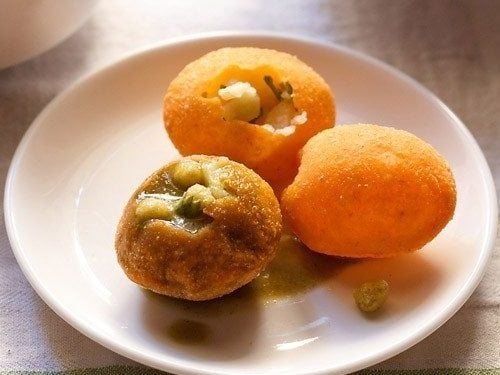 2. pav bhaji recipe – it is one of the most popular street food from mumbai. it is basically spiced smooth mashed mix vegetables, served with lightly roasted buttered bread. there are many variations of pav bhaji like kada pav bhaji, paneer pav bhaji. i have also shared pav bhaji recipe in pressure cooker and no onion no garlic pav bhaji. with left over bhaji you can make another popular mumbai street food that is pav bhaji dosa.
3. misal pav recipe – a popular mumbai street food of usal (sprouts curry) topped with onions, tomatoes, farsan (fried savory mixture), lemon juice and served with pav. i have also posted easy one pot method of making delicious misal pav recipe (with video).
4. bhel puri recipe – a crispy, soft, sweet, tangy, spicy mixture of many edibles like puffed rice, roasted peanuts, sweet chutney, green chutney, onions, tomatoes, sev etc. a snack that can be made in a jiffy if you have all the ingredients ready. few variations of bhel puri are chana dal bhel puri, sukha bhel puri and hurda bhel.
5. sev puri recipe – a spicy, sweet, tangy chaat with so many different textures and tastes mingling in your mouth. its easy to assemble sev puris. just that some of the ingredients need to be prepped up before you start assembling them. other similar tasty chaat recipes are dahi sev batata puri and dahi papdi chaat.
6. ragda patties recipe – another popular street food where potato patties or aloo tikkis are layered or topped with ragda, which is a spiced dry peas preparation. then topped with onions, sweet and spicy chutneys and sev. another similar gujarati snack is this farali pattice which is made during fasting days.
7. falooda recipe – a layered summer dessert beverage made with milk, rose syrup, sabja seeds, falooda sev, dry fruits and ice cream. a popular north indian summer drink which is now equally popular in mumbai and pune. there is another variation of kulfi falooda in which kulfi is served with falooda and sabja seeds. other delicious variations you can easily make at home are kesar pista falooda, strawberry falooda and mango falooda recipe.
8. mumbai veg sandwich – sandwiches are very popular in mumbai. one gets to see so many sandwich stalls. what adds spice to this veg sandwich is the spicy coriander chutney, black salt and chaat masala. other popular sandwich recipes from mumbai are masala toast sandwich, mumbai style cheese chilli toast, veg club sandwich (mumbai version), cheese masala toast sandwich and mumbai veg grilled sandwich.
9. dabeli recipe – dabeli is a street food which originated in kutch region. dabeli is also called as kutchi dabeli or kachchhi dabeli. its a very popular street snack and can be easily found in mumbai as well as in gujarat.
10. chole bhature recipe – spicy chickpea curry served with leavened fried bread (bhatura). this delicious snack is equally popular in punjab and parts of north india as well. if you don't like having fried bhaturas or pooris, then you can serve the chole masala with butter naan or whole wheat naan or garlic naan or tandoori rotis.
11. samosa recipe – a classic and popular indian snack stuffed with spiced potato peas filling. samosas are a favorite with many of us. wherever you go, you will be able to get samosas in india. they are a popular street food in india. in mumbai, there are street food snacks of samosa-pav and samosa sandwich. in the north, you will get samosa chole chaat. health conscious people can try this baked aloo samosa recipe.
12. veg manchurian recipe – an indo chinese starter dish of fried veg balls in a spicy, sweet and tangy sauce. if you are looking for gravy version then here is the link for veg manchurian gravy recipe. few more indo chinese recipes which are popular in mumbai are gobi manchurian, veg fried rice, veg hakka noodles, schezwan noodles, schezwan fried rice and veg spring rolls.
13. vada pav recipe – this is one of the most humble street food of mumbai, yet it is tasty and delicious. it basically has batata vada which is sandwiched between two slices of a pav, along with sweet chutney and green chutney. to make pav at home, you can check these recipes of ladi pav in pressure cooker and pav recipe.
14. tawa pulao recipe – a popular mumbai street food of rice and vegetables sauted together with pav bhaji masala and other spices-herbs. the street side vendors use a huge tawa and they make pav bhaji, masala pav, tawa paneer masala and tawa pulao on this huge tawa. for home cooks, this recipe can be made in a frying pan or even in a kadai (wok).
15. khaman dhokla recipe – khaman dhokla or khaman as its called, is a savory steamed cake made from gram flour. khaman is soft and fluffy, mildly tangy-sweet and a great snack anytime of the day. few more popular gujarati recipes you can check are khatta dhokla, instant rava dhokla, methi thepla, methi muthia and khandvi.
16. poori bhaji recipe – this is the maharashtrian version of potato curry with pooris. this poori bhaji is very different from the punjabi aloo poori that i make. a classic example of the variety & diversity of indian cuisine using the humble potato and indian spices-herbs. you can also check this poori masala which is the south indian style potato masala which goes well with pooris and dosa.
17. batata poha recipe – we used to simply call this dish pohe. potato poha used to be quite a regular breakfast recipe at my place. its a quick, easy and healthy dish to make. its also a popular breakfast recipe in maharashtra. two variations of this recipe you can easily make are kanda batata poha (onion potato poha) and kanda poha recipe (onion poha).
18. rava upma recipe – savory south indian breakfast dish made with rava. making upma does not take much time and can be done in 15 to 20 minutes. other popular variations of upma are bread upma, oats upma, poha upma and idli upma recipe.
19. sabudana vada recipe – its crispy and delicious and can be made as a morning or evening snack. sabudana vada is served with sweet curd (yogurt) in maharashtra and this combination tastes great. sabudana is a common ingredient used during the religious fasting or vrat. few sabudana recipes which you can make for navratri fasting are sabudana khichdi, sabudana thalipeeth, sabudana kheer, sabudana bhel, sabudana tikki, sabudana pakoras and sabudana ladoos.
20. idli recipe – idli is also a popular mumbai street food snack. idli is a traditional breakfast made in every south indian household. this is a tried and tested method to make soft and fluffy idlis at home. two more similar snacks recipes popular in mumbai are medu vada and mumbai style idli fry. for more idli recipes, you can check this collection of 12 idli varieties.
21. masala dosa recipe mumbai style – crisp dosas served with potato masala in a mix of onions, coriander leaves, garam masala powder and butter. few more popular mumbai style dosa recipes are schezwan masala dosa, mumbai style mysore masala dosa, sada dosa, schezwan dosa and jini dosa. for more dosa varieties you can check this collection of 31 dosa recipes.
22. ganga jamuna juice – sweet lime and orange juice medley. try this juice this summer and you will love it. other juice recipes which are popular in mumbai are watermelon juice, sugarcane juice, orange juice and pineapple juice.
23. dry fruits milkshake – rich in iron and calcium, this milkshake is a healthy beverage as well a great energy supplement for anyone who wants a quick boost of energy. good for occasions when you are low in energy levels and quickly wants to super charge your energy levels. few more milkshakes you can make this summer are banana milkshake, mango milkshake and chickoo milkshake.
24. masala uttapam recipe – you can easily make the uttapams with leftover idli or dosa batter. you will need to make the potato masala separately. then preparing these sandwich uttapams is very easy. other tasty variations of uttapam you can make easily are rava uttapam, onion uttapam, onion tomato uttapam and oats uttapam recipe.
25. veg momos recipe – steamed dumplings stuffed with a lightly spiced vegetable filling. a tibetan recipe which is now a popular street food snack in most indian cities including mumbai. i have also shared momos chutney and whole wheat momos recipe.
26. veg frankie recipe – delicious wraps stuffed with a spiced mix veg stuffing. these mix veg kathi roll are also known as veg frankies. these make for a good brunch, lunch or tiffin box snack. preparing kathi rolls from scratch takes time. if you have the atta dough ready, then these are more quick to prepare. two more similar recipes on blog are paneer tikka frankie, palak paneer kathi rolls and aloo tikki frankie recipe.
27. mumbai cutting chai – cutting chai is half a portion of chai (tea). its served in special kind of glasses instead of cups. the tea is boiled for a longer time so it becomes a really strong chai and has a dominant flavor of cardamom followed by ginger. if you love tea and coffee then you can check these recipes of masala chai, filter coffee, mint tea, cold coffee and ginger tea recipe.
28. veg hot and sour soup – spicy and hot soup made with mixed vegetables. another similar spicy and hot soup recipe is veg manchow soup recipe made from mix vegetables. for more soup recipes, you can check this collection of 21 soup recipes.
29. piyush recipe – smooth and creamy beverage popular in the maharashtrian and gujarati cuisine of western india. piyush is a bit similar to the popular beverage lassi. but in comparison, piyush is thick, creamy and sweeter than lassi. obviously as shrikhand is added to it. shrikhand is thick, creamy and sweet. few more popular beverages in mumbai are chaas, mango mastani and nimbu pani.
30. kanda bhaji recipe – kanda bhaji are fried onion fritters. these crisp fritters are prepared mainly with onion and gram flour (besan). bhaji is also known as pakoras in north india & bajji in south india. other pakora varieties popular in mumbai are bread pakora, aloo pakora, raw banana pakora and mix veg pakora recipe.
31. ragda chaat recipe – easy and a delicious chaat made with ragda, spices and herbs. ragda is a preparation made with dried white or yellow peas. if you have boiled the ragda earlier then this chaat can be made in less than 5 minutes. assembling the chaat is very easy. if you skip the puri and sev, then this chaat is low on calories and yet tastes good. you can also check this masala puri recipe which is a popular street food snack from bangalore and is also made from dried white peas.