hummus recipe with step by step photos – hummus is a popular middle eastern dip made from cooked, mashed chickpeas.
chickpeas are a favorite at home. usually with chickpeas, i end up making either punjabi chole or chana pulao. i must have made umpteen versions of punjabi chole at home. and we simply love chickpeas cooked with indian spices and masala.
food blogging gives me the advantage of not only posting the traditional and regular recipes but also trying new recipes at home and then posting them. its such a joy to try out unknown recipes, take good shots and then write about them.
if you have never had hummus or don't know what it is… this post will tell you that and please do try making hummus at home. you are going to love it.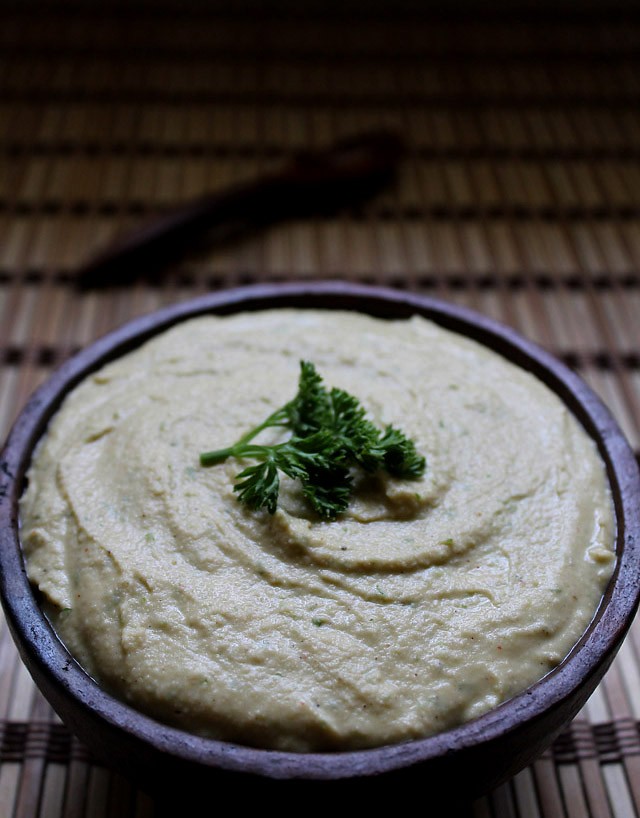 i remember having hummus first time as a ten year old with falafel and pita bread in mumbai and i liked it so much. i asked my mom to make it for me and she did not know how to make it. i don't blame her as these are not indian recipes and we do not make these at home.
the taste and aroma of that particular pita bread stuffed with falafel and hummus still lingers in my memory.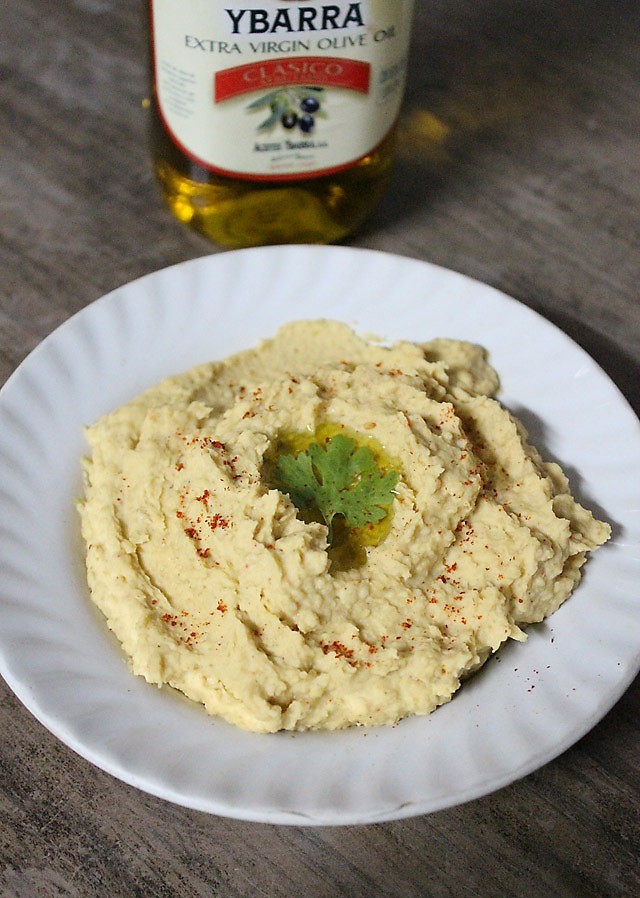 after a gap of many years, the second time i had hummus was when, a dear friend maitreya made it for all of us… about 18-20 people. it was such a bland hummus… poor maitreya… i don't blame him for that. he was making it for the first time and that too for so many people.
maitreya, if you are reading this post, than you must try this hummus recipe. its a fantastic one and you are going to love it.
when i searched online for hummus recipe, there were many i came across. i settled for this one from about.com. a few recipes, i have tried from about.com and they have also come out good.
i have made a few changes to this basic hummus recipe and that is adding garlic, red chili powder and black pepper powder.
while preparing hummus tahini is required. tahini is a famous middle eastern spread made from sesame seeds. if you do not have tahini, then a simple idea is to just add powdered roasted sesame seeds to hummus. in the indian household, generally, one may not find tahini, but one will find sesame seeds, especially in the winter season.
hummus is great as a spread on sandwiches or burgers. you could also have it as a dip with fried, roasted or steamed veggies. best is to have hummus with pita bread. even it tastes good with garlic naan or butter naan.
i usually make extra hummus and keep it in the refrigerator. stays good for 4 to 5 days.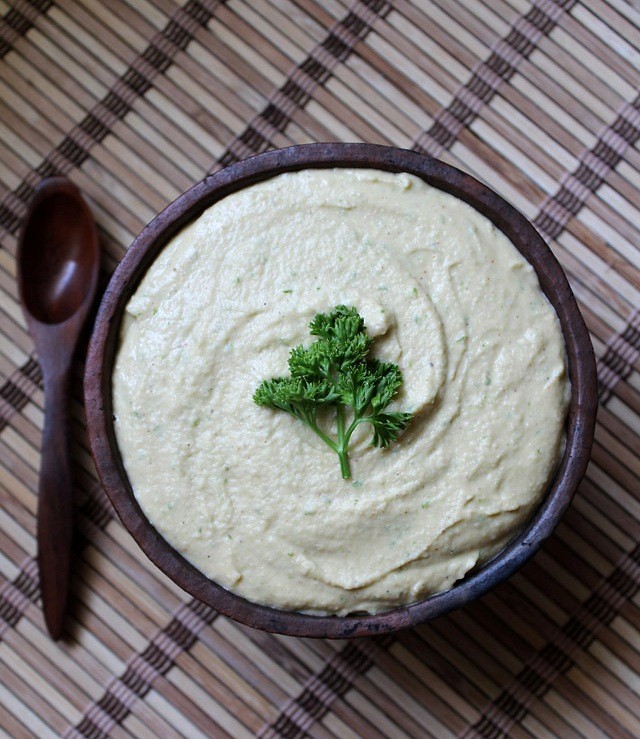 before we start, i have used dried chickpeas which require soaking them for a good 8-9 hours and then cooking them without salt. i always cook soaked chickpeas in a pressure cooker as its quick and does not take a long time. the chickpeas have to be really cooked well. they should be easily mashed when you press them between your fingers.
if you are looking for similar recipes then do check muhamarra, almond dukkah, tomato pizza sauce and cabbage coleslaw.
hummus recipe details below: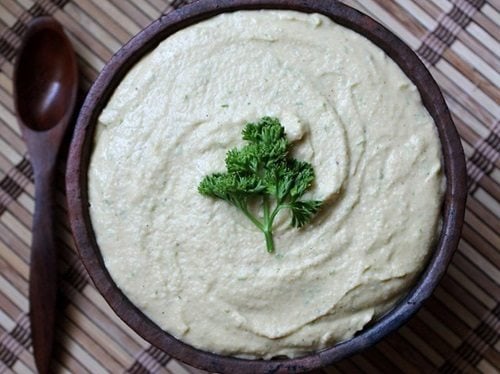 hummus recipe
hummus recipe - creamy dip or spread made from white chickpeas.
ingredients (1 cup = 250 ml)
1.5

cups

dried white chickpeas,

soaked in water for 8 to 9 hours and then cooked till soft

½

cup

olive oil,

add more if required

2 to 3

garlic cloves,

chopped

1

tablespoon

lemon juice

½

teaspoon

red chili powder

or cayenne pepper

½

teaspoon

black pepper powder

1

teaspoon

cumin powder

(jeera powder)

½

cup

roasted and powdered white sesame seeds

or ½ cup tahini

a few sprigs of parsley

or coriander leaves (cilantro)

salt as required
how to make recipe
roast the sesame seeds and then powder these finely.

take the cooked chickpeas, all the spices, parsley, salt and garlic in a blender.

add the powdered sesame seeds, lemon juice and olive oil.

blend to a smooth paste.

serve the hummus with warm pita bread garnished with a few sprigs of parsley
recipe notes
in place of olive oil, you can use neutral oil like sunflower oil.
so lets start step by step hummus recipe:
1: take the roasted sesame seeds in a blender or dry grinder and finely powder them.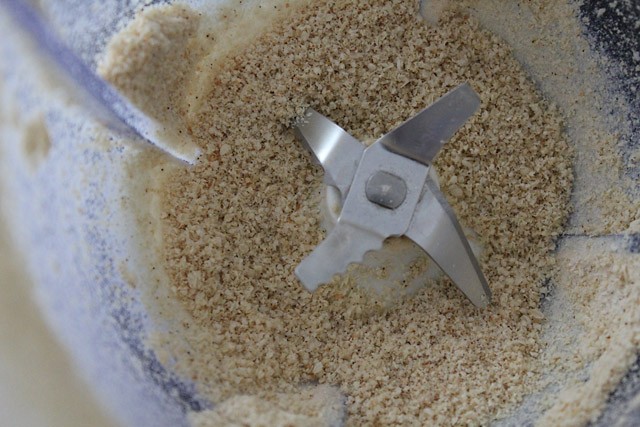 2: now take the thoroughly cooked chickpeas, garlic, all your spices and salt in a blender or wet grinder. either add the powdered sesame seeds to it or vice versa. this is what i did. firstly, i powdered sesame seeds in a blender. then added chickpeas et all to the powdered sesame seeds in the same blender.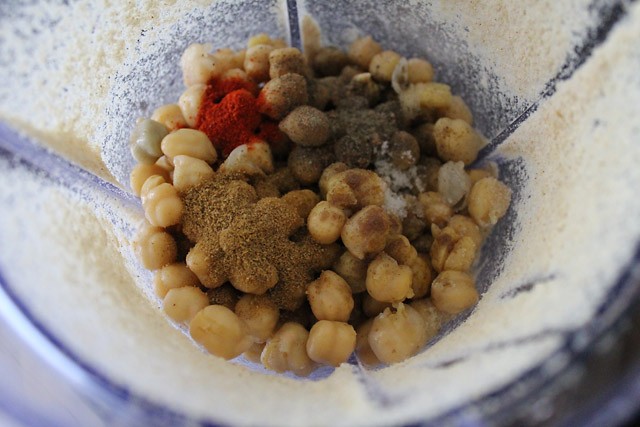 3: oh… where are the garlic in the above pic… these are at the base and you cannot see them… so here is another pic for you with the garlic taken at some other time.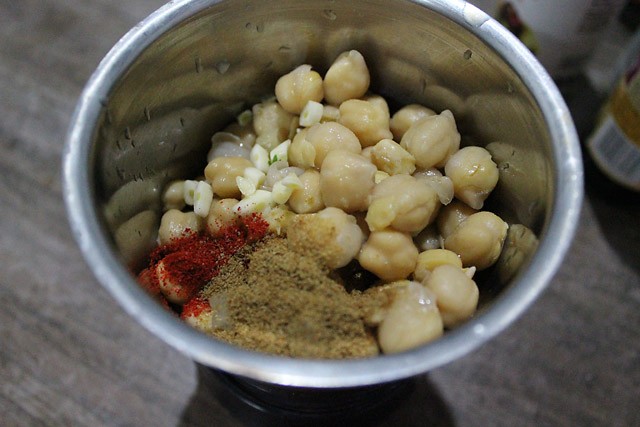 4: add lemon juice and olive oil.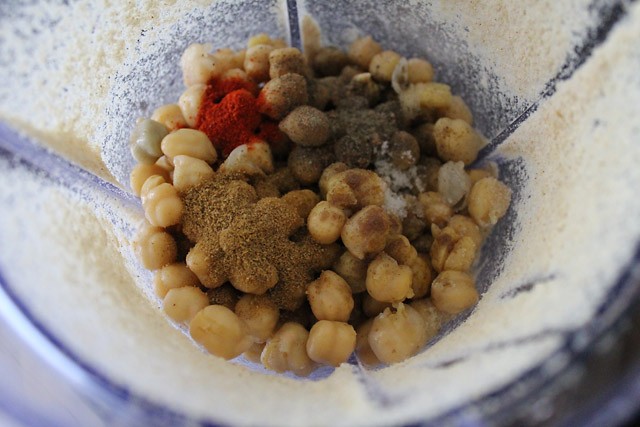 5: blend to a smooth paste. while blending if its difficult, then add some chickpea stock to the blender. if you love olive
oil like me, then you can add some olive oil instead of the stock. whilst the hummus was blending, i remembered i had to add one herb to it, which i had forgotten. there goes some parsley in the hummus. you can use coriander leaves/cilantro if you don't have parsley.
6: serve the hummus with warm pita bread or with steamed or roasted veggies. whilst serving you can also add some olive oil to the hummus… enjoy :-)…
the extra hummus can be stored in an air tight container in the refrigerator.