having a fruit salad is relief in these hot summers. not only they are quick to prepare but also light for the stomach.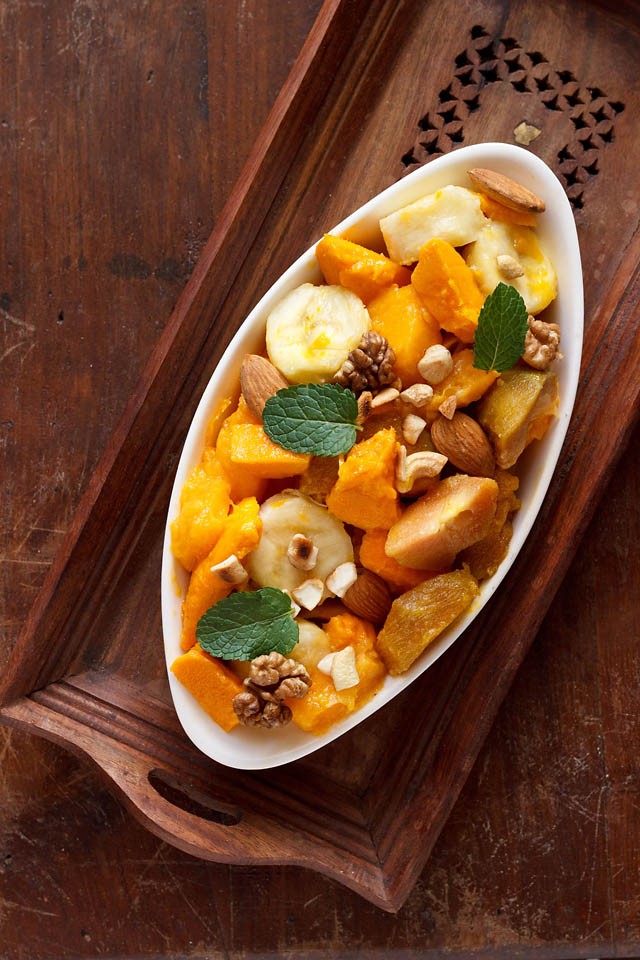 easy to digest as well as nutritious. so this summer make the best use of seasonal fruits that nature offers like mangoes, chickoos, berries etc.
fruit salad is a healthy dish but one has to be careful to choose the right combination of fruits. wrong combination of fruits could be toxic to the body. to be on safer side, for this fruit salad i have chosen sweet fruits like mango, banana, chickoo and papaya.
the fruit salad was yummy specially because the all the fruits were organic. they were so good and sweet that i did not add any sweetener or sugar in the salad.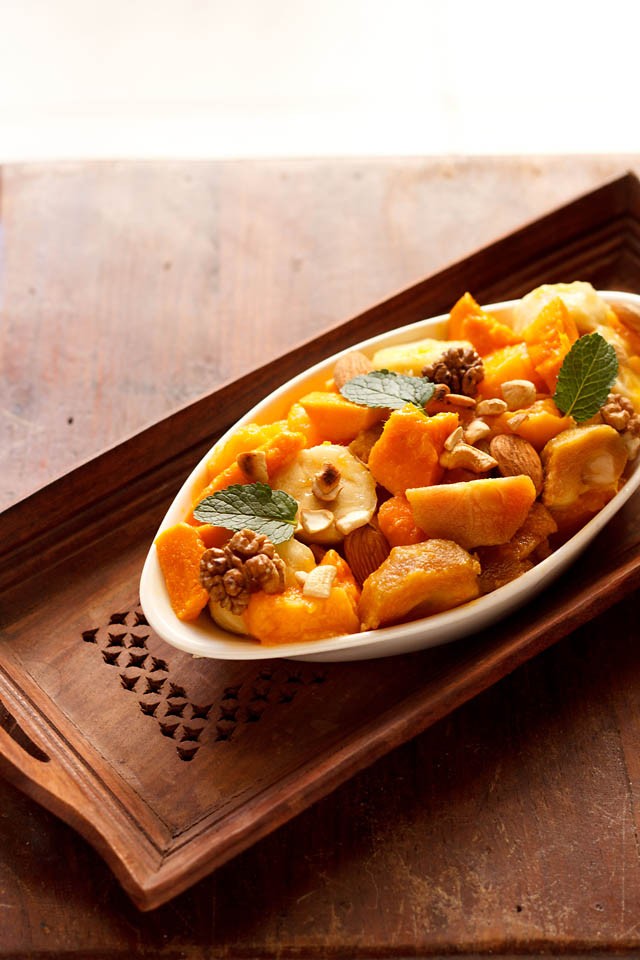 as a topping on the fruits, i added some roasted cashew nuts, almonds and walnuts for additional texture and crunch. dry fruits once roasted becomes a good snacking as well as munching snack. you can dry roast the dry fruits in an oven or in a pan and spice them with your favorite spices and store them in air tight container and munch on them whenever you want.
few points useful for making a good fruit salad:
1. use the fruits which are in season.
2. use fresh and ripe fruits only.
3. fruits should ideally not be eaten after a meal. its always better to have fruits atleast half an hour or 1 hour before the meal.
4. avoid mixing acidic and citrus fruits with sweets fruits.
5. avoid mixing citrus fruits with milk based items.
6. fruits are perishable and don't have long shelf life once chopped. so its always better to consume them fresh.
7. you can use mint leaves for garnishing as well for digestive properties.
8. you can also add your choice of dry roasted dry fruits for additional flavor.
if you are looking for more fruit recipes then do check fruit custard, muskmelon juice, sweet lime juice, mango milkshake and kokum sherbet recipe.
fruit salad recipe details below: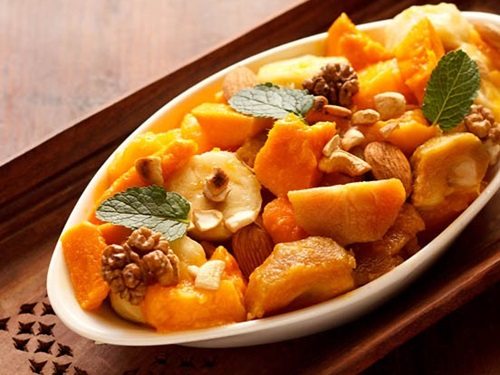 fruit salad recipe
fruit salad recipe - a tropical fruit salad with sweet fruits.
ingredients (1 cup = 250 ml)
2

large mangoes

2

medium sized bananas

2 to 3

small to medium sized chickoos

(sapota)

1

small papaya

or ½ of one large papaya

dry fruits like cashew

almonds, walnut or of your choice (optional)

few mint leaves for garnishing
how to make recipe
peel and chop mangoes, banana, papaya and chickoo into bite sized pieces.

add everything in a salad bowl or any large bowl.

mix the fruits well.

dry roast the dry fruits in a oven or in pan to make them crisp.

add dry fruits on top of the fruits.

add few mint leaves for garnishing.

serve the fruit salad immediately.